As Mitsubishi Motors Corp. (MMC) celebrates its100-year existence while participating in the 45th Tokyo Motor Show, the Japanese carmaker that lays claim to have offered SUVs for decades long before the term was coined and to have introduced electric vehicles ahead of its rivals, declares that it would retain its "Mitsubishi-ness" despite now being part of the Renault-Nissan-Mitsubishi Alliance.
The term Mitsubishi-ness has reference to the company's century-old commitment to sound and pioneering automotive engineering as demonstrated by their groundbreaking SUV creations and path-finding electric vehicle initiatives.
The 'alliance' was formed following Nissan's acquisition of a more than 30% controlling stake of Mitsubishi last year. A move that MMC chief executive officer, Osamu Masuko candidly describes, "which brought Mitsubishi economies of scale we never had before."
As part of the media contingent hosted by Mitsubishi Motors Philippines Corp. (MMPC) to the biennial international auto industry event, I had the rare privilege of being allowed to have an 'one-on-one' on camera interview with the very accommodating MMC chief executive, which we had transcribed for our column readers.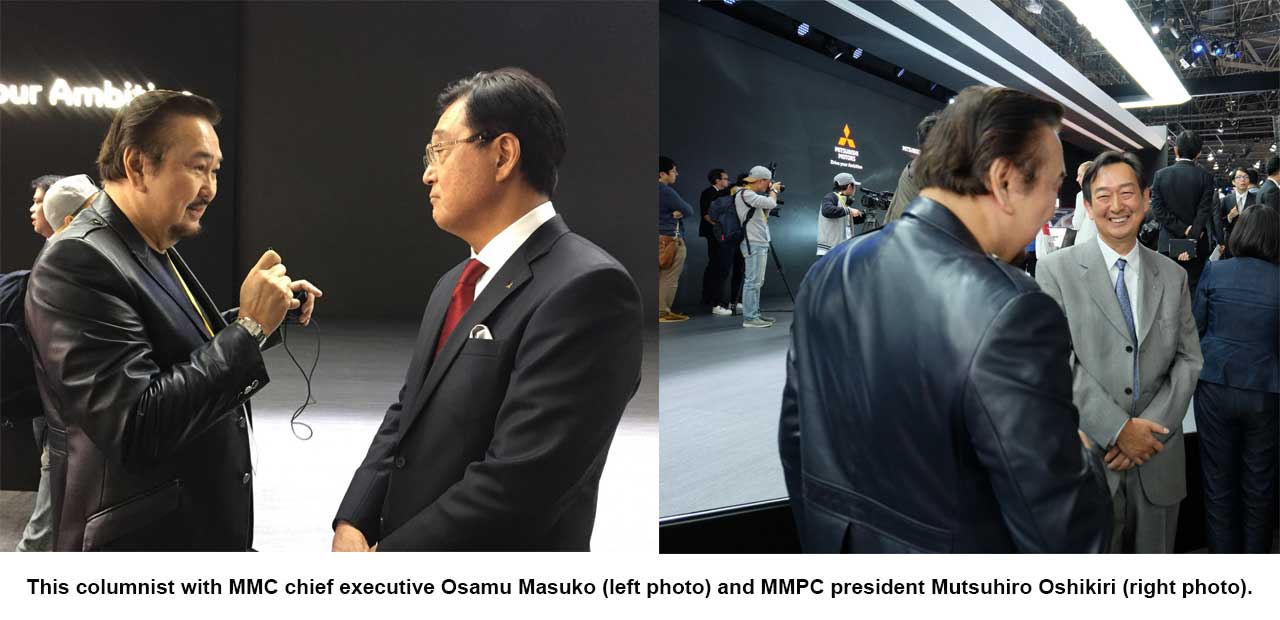 Caption : This columnist with MMC chief executive Osamu Masuko (left photo) and MMPC president Mutsuhiro Oshikiri (right photo).
RBG: Please give our viewers an idea of what lies ahead for Mitsubishi Motors now that you're celebrating your 100 years.
Masuko: We have a very long experience to develop and to manufacture cars. We have a 100-year history. Running this 100th year, we challenge many to develop new technology for a new car. Today, we have many strong technologies in our company. In the future, we use such a strong technology and also, we can use that technology and many items from alliance. Nissan also has many good technologies. We can use both technologies, our technology and Nissan technology. In the future, our chance becomes bigger compared to stand-alone. I believe our future is very bright.
RBG: With all due respect Mr. Masuko, allow me now to sound parochial by shifting to Philippine interest. We are now in the midst of developing e-vehicles for public transport. What would be the participation of Mitsubishi Philippines in this national endeavor? How strong will you be as far as coming up with electric vehicles in the Philippines?
Masuko: On this year, we've just studied our production on the CARS Program. Now, we would like to expand our business in the Philippines. Philippines has so many small island. In such a small island, e-vehicle is very safe there because running distance is not so long, maybe 20 or 30 kilometers is enough. E-vehicle is more efficient, more convenient in a small island. I think in the Philippines, e-vehicles will be mainstream in car line-up. So, we would like to challenge ourselves, someday, to produce electric vehicles in the Philippines but we need government support to start producing new cars. So, we would like to talk your government.
RBG: You've mentioned government support. Can you be more specific as to what would best help Mitsubishi as far as government's support is concerned?
Masuko: At the very beginning, cost is very high compared to existing gasoline or diesel engine. In some period, we need support - incentive support, product support.
RBG: The CARS Program is on going now. Would you like to take this opportunity to invite our Philippine viewers to take a look at your Mitsubishi Mirage and Mirage G4, the camera is yours.
Masuko: We appreciate Philippine government's decision to support. Now, we are expanding our business in the Philippines under CARS Program. In the future, we would like to try to export from the Philippines to other countries, and we would like to contribute to the Philippine economic growth. Thank you very much!
As can be gleaned from the interview, we can look forward to positive contributions from Mitsubishi Motors in the future. This include an active involvement in our country's shift to e-vehicles in the public transport sector and the possibility of manufacturing vehicles locally for export to other countries, which would mean more jobs for us-indeed positive developments in the horizon.
Having had the privilege of regularly attending the Tokyo Motor Show since the early 90s with rotating gracious hosts, it was only this year that I was limited to a day's stay at the motor show's venue due to a very tight schedule. This included a side trip to Nagoya for a test drive of a new model offering from Mitsubishi that shall be launched in the Philippines early next year. It would have been a big challenge for me if this happened in the 90s when I used to put together two episodes for the TV show Motoring Today from the footage of the motor show that I used to shoot alone. But then that was more than two decades ago when I was more than two decades younger. Fortunately a lot of things have changed since then.
Aside from invitations for STV's production manager, Jenny Bleza and STV's online operations manager, my son Ray Louis (Wee) who both help out in conducting on cam interviews and gathering video materials for our TV shows and websites, the advancement of technology and the presence of the video and information-rich web have made our jobs less challenging than more than 20 years ago.
There's also an added bonus-the very friendly motoring beat, where most (but not all) are non-scoop oriented and are always willing to share footage with their peers. Full credit goes to the multi awarded TV production couple of Jiggy andMarnie Manicad of TurboZone and other top-rating TV shows. I remember Jiggy snugging close to me at the airport even before departure from NAIA saying not to shoot anymore while in Japan as they will be sharing with me his footage and that of his wife Marnie, who's with the Toyota group-talk about real friends.
Then there's also our longtime peer and friend,Ron delos Reyes of Auto Review. Who, upon knowing that my son, Wee's motor show footage got corrupted offered posthaste to share all his shots and interviews, after all Wee also helped him with his on camera shoots-talk about friendly give and take. Both were with the Honda media contingent.
Being graciously hosted by Mitsubishi in the Tokyo Motor Show has always been an adventure for me and other journalists. It offers the rare opportunity to observe and experience the daily routine life of commuting by the Japanese people. The train rides, especially during rush hours can be very challenging for car-riding Pinoy city dudes like me. In my many trips with Mitsubishi I would always look forward to see the artistry, or is it the science involved in how the Japanese can be able to sleep while standing up train-riding or be able to expertly fold and unfold a newspaper to be able to read it in its entirety while again standing up in a very crowded, face against face commuter train-indeed a must experience, experience.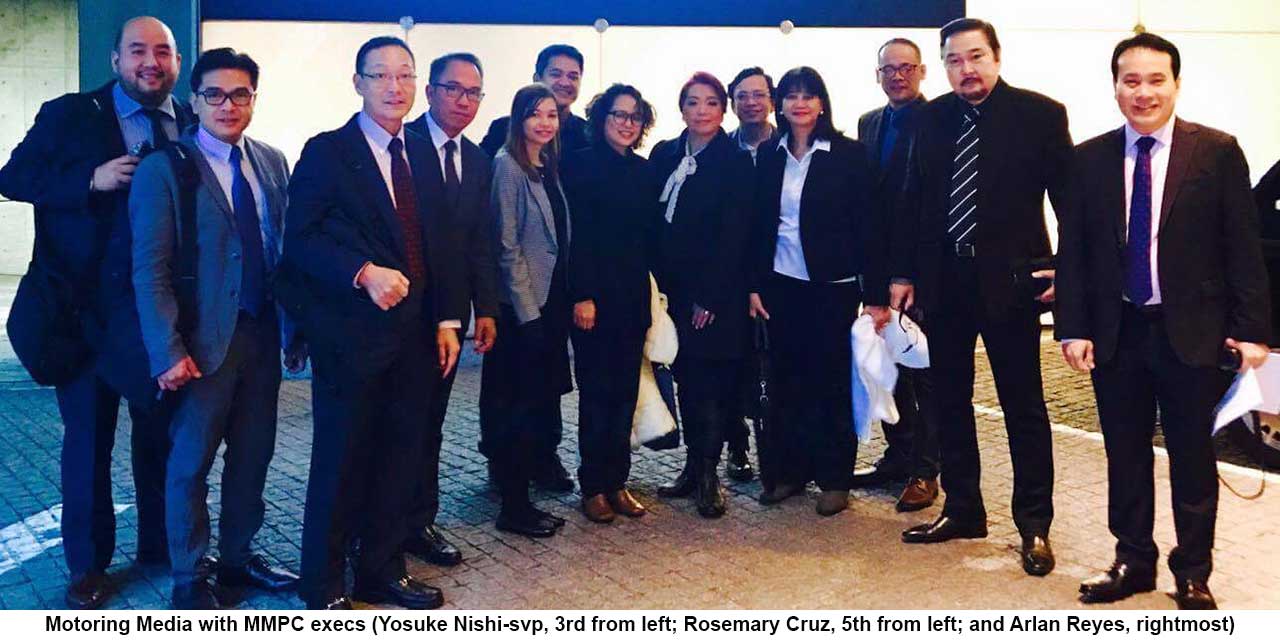 Thank you to MMPC for having us in the 45th Tokyo Motor Show.
Happy Motoring!!!
For comments & inquiries (email) sunshine.television@yahoo.com