Judging by the distinguished gathering of top auto industry leaders last Friday at the Marriott Hotel, CAMPI or the Chamber of Automotive Manufacturers of the Philippines is all geared up for the 6th staging of the Philippine International Motor Show (PIMS), the biggest auto industry event that it organizes every two years.
Scheduled for a 5-day show this year, what CAMPI banners as a "one-of-a-kind" motoring experience draws its curtains on September 14 up to September 18, 2016 at its usual home, the World Trade Center in Pasay City, Metro Manila.
"We are excited to bring back PIMS, the prime industry-led motor show, for its 6th staging and showcase the latest automotive technologies from 17 of the top automotive brands in the country today. This year's theme,"Steer The Future" is a testament to CAMPI's mission of not only bringing new car models in the market but also contributing to the country's growth and leading the way for better mobility and transportation for Filipinos." according to Atty. Rommel Gutierrez, vp for corporate affairs of Toyota Motor Philippines as well as the dynamic president of CAMPI, the country's biggest organization of auto industry players.
During the media conference, which launched the much-awaited motoring event CAMPI announced that the event would be a remarkable showcase of the latest automobiles and automotive technologies coupled with exciting activities that are sure to entertain motoring and car enthusiasts, "may they be kids or kids at heart."
These activities and event offerings include; CAMPI Brand Heritage Display where 17 of the country's top automotive manufacturers and distributors will spotlight their latest vehicles and automotive technologies in the brand heritage display.
Car Launches - the individual unveiling of highly anticipated premiers of latest car models.
After-Sales Pavilion - will offer special packages on vehicle upgrades, repair services and quality genuine parts for different vehicle models, old and new to allow customers to have the best possible ownership experience.
Test Drives and Off Road Demonstrations - outside the venue will be a test drive area for participating car companies.
Car Club Meets - affiliated organizations of participating car brands will hold club meets to promote camaraderie among auto enthusiasts.
Entertainment - Top Gear Drift Box Challenge, C! Challenge, Kiddie Day Care activities, Karcher Car Wash activity, etc., to name some would form part of the entertainment.
CAMPI guarantees that not only are there a lot to see at PIMS, there are a lot to do and enjoy too.
A must for car buffs! I'll see you there.
The Phil's 10 top-selling auto companies
Inquiries as to what are the country's top-selling automobile companies are commonplace for us motoring journalists. The public expects us to know everything about cars and its industry. The truth is I don't - not all anyway. The fact that there are two industry organizations; one mainly for car manufacturers and distributors and the other for importers and distributors both coming up with their individual organization's sales performance, is no help to the inquisitive motoring public either.
Then there's the issue of what is really to be regarded as sales - those that are transferred from the authorized distributor to its dealerships or those that are actually sold to the public?
Manny are of the belief, industry players included, that the latter is more indicative of actual sales. That being the consensus in the industry and with such data made available for us by the LTO (Land Transportation Office) documented by STRADCOM, its authorized IT provider as a requirement for our annual Auto Focus People's Choice Awards, allow me to give you here as a public service to the general motoring public the 10 top-selling automobile companies in the country based on documented registration of vehicles in the LTO main offices and all its satellite offices nationwide from January to July 2016.
| 1. Toyota Motor Philippines | 81,083 units |
| --- | --- |
| 2. Mitsubishi Motors Philippines | 27,283 |
| 3. Ford Philippines | 20,676 |
| 4. Honda Cars Philippines | 12,499 |
| 5. Isuzu Philippines Corp. | 12,260 |
| 6. Hyundai Asia Resources | 12,034 |
| 7. Nissan Philippines | 8,008 |
| 8. Suzuki Philippines | 7,008 |
| 9. Columbia Autocar Corp. (Kia) | 3,923 |
| 10. Covenant Car Company (Chevy) | 3,421 |
We shall also release here the country's top-selling models, possibly in each model category (sedans, SUVs, pick ups, etc.), as soon as the tabulation is completed. It may also include the 5 top-selling premium brand auto companies and their corresponding sales.
Again for the record, the above are figures from the regular documented report submitted to STV by STRADCOM as authorized by the LTO on actual vehicle registration in the country. And we are releasing this without the intention of favoring or putting into bad light any entity in the auto industry but as an act of public service to the general motoring public.
Isuzu launches 2017 D-Max
The Isuzu D-MAX recently earned the distinction of being the most fuel-efficient vehicle in the country during the economy run conducted by the Department of Energy involving all the vehicle models currently available in the local market.
Last Thursday at the Marriott Hotel, IPC (Isuzu Philippines Corp.) gathered the local motoring media to lunch the 2017 Isuzu D-MAX 3.0L LS. There are quite a slew of upgrades and refreshed styling in this latest iteration but immediately visible are those in the D-MAX's front and rear. The front has redesigned projector headlamps with the addition of LED Daytime Running Lamps, while the rear has a new tailgate that incorporates a spoiler-shape design.
Add to these the new look of its wheels with a newly designed 18-inch alloy wheels ideal for both street and off-road use.
"The upgrades received by the 2017 Isuzu D-MAX 3.0 LS are designed to make a capable truck even more appealing and value-laden to consumers. The pickup truck segment is currently one of the most dynamic and competitive in the local market, and we believe that the very popular Isuzu D-MAX should always stay ahead of its rivals in terms of equipment level and competence," remarked IPC president Hajime Koso during the well-attended launch, which was graced by movie personality Derek Ramsey, whose appearance of toughness and being capable of handling anything that life may throw at him, an attributed likeness to the DMAX, earned him being its latest brand ambassador.
Prices of the 2017 D-MAX variants are pegged at P1,520,000.00 for the 3.0L LS, 4x4 A/T, P1,450,000.00 for the M/T. while the 4x2 A/T goes for P1,210,000.00 and the 4x2 M/T for P1,140,000.00.
They are all available for test-drives in all IPC dealerships nationwide.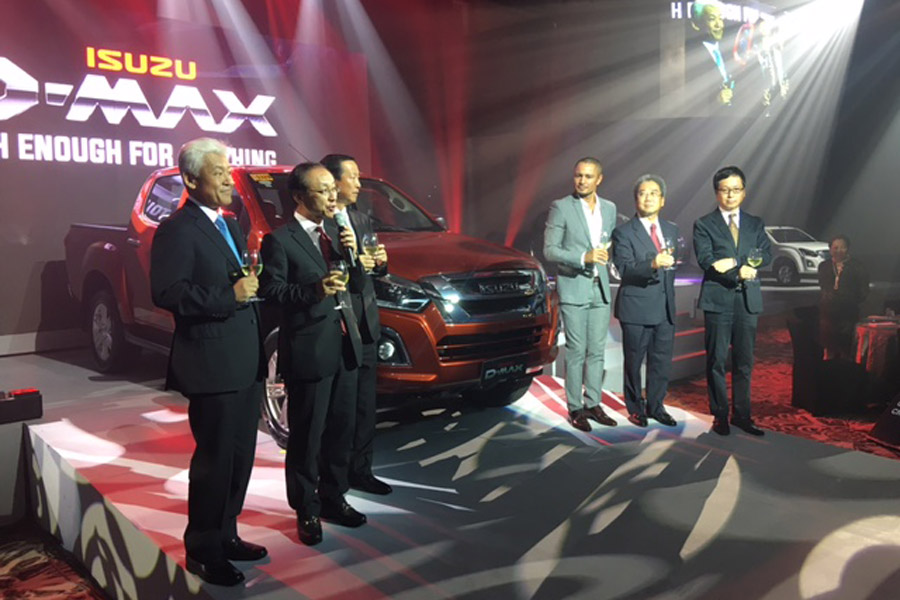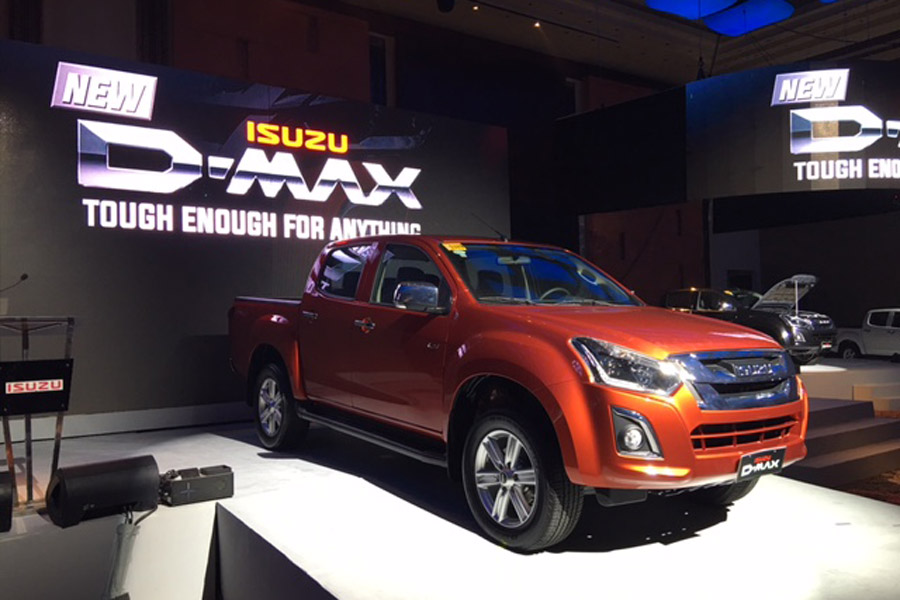 Petron and Uber - no strange bedfellows
A most welcomed partnership between market leader Petron Corporation and Uber; the world's leading ridesharing application was recently launched. The happy benefactors are the thousands of Uber Partner-Drivers in Metro Manila. Through this partnership they would exclusively enjoy special bonus points, discounts and other privileges when using the Uber x Petron Value Card at participating Petron service stations.
The special bonus points are 25-peso points and 5o-peso points when they load up with P500 to below P1,000 and P1,000 to P2,000 worth of Petron Blaze 100, Petron XCS, and Petron Xtra Advance, respectively. For Petron Turbo Diesel and Petron Diesel Max, the special bonus points are 10-peso points for purchases worth P500 to below P1,000 and 20-peso points for purchases between P1,000 to P2,000.
During the launching it was also announced that on top of these exciting rewards, Uber x PVC holders can also avail of free 24/7 towing assistance, personal accident insurance coverage, and other privileges and benefits such as discounts at partner establishments.
"Our partnership shows the strength of two innovators. Petron has always been the Philippines' leader in fuels and product innovations, while Uber as we all know changed and more importantly improved the transport service in the country," Petron vp for National Sales Division, Archie B. Gupalor said during the launch.
Motoring Online
Here are websites to check out for motoring and automobile enthusiasts - www.motoringtoday.ph / www.autofocus.com.ph
Happy Motoring!!!
For inquiries and comments (email) sunshine.television@yahoo.com