There is now a slew of welcome motoring developments that may lead one to believe that all is not lost despite disturbing developments in the world, which presently make many turn to the sports page for less stressful news.
The poised move of the Land Transportation Franchising and Regulatory Board (LTFRB) to require all public utility vehicle (PUV) drivers to undergo drug tests can undoubtedly reduce road accidents caused by drivers who ply their routes while under the influence of illegal drugs.
This measure could be most effective if done randomly but consistently, like unannounced in bus and jeepney terminals before any driver is cleared to drive out. Any driver found positive should be grounded on the spot and criminally charged immediately.
I remember getting almost identical suggestions from our readers that for a more effective implementation of the law against driving under the influence of alcohol or drugs, drivers that get involved in any kind of accident, except for the fender-bender types should immediately undergo drug and alcohol tests. Any driver found positive should be held for immediate inquest for criminal liability. Sounds harsh but indeed very effective.
Another welcome development is the move of the Land Transportation Office (LTO) to allow new electric, solar-powered public utility jeepneys (PUJs) that passed their inspection based on the specifications and standards set by the Bureau of Product Standards of the DTI to ply certain routes.
The standards stipulate that the PUJ must be able to accommodate 22 passengers using an entrance installed on the right side of the vehicle with seats facing front and safety belt-equipped.
Some of the routes specified include Ayala-Buendia toSM Mall of Asia and to the Southwestern Integrated Transport Terminal upon its completion.
This would mean the advent of environment-friendly, cleaner, safer and more reliable PUVs for the public's use-what used to be a dream might now hopefully be a reality.
The motoring public fervently prays for things coming into fruition and beyond press releases and power point presentations.
Audi Q5 launch
There appears to be a "dual mad rush" this year by both the suppliers and the supplied (sellers and buyers) in the local auto industry as we see new models being launched and more lined up to be unveiled just before the year ends up to the start of the coming year or more specific before the government's poised increase in taxes gets implemented. And both sectors agree that it's more of optimizing the opportunity or "making hay while the sun is up", that this waiting period presents-for the buyers to buy when the prices haven't gone up and the sellers to unload when the demand is still obviously high.
Audi Philippines wisely joins the bandwagon by launching its all-new Audi Q5, one of its fastest-selling models considering its very strategic price level, which is right smack into where most of their loyal buyers belong to.
"I am proud to bring the all-new Audi Q5 here in the Philippines. This car is setting the bar higher for SUVs in its class," says Audi Philippines head, Benedicto Coyiuto. The young top executive in the local auto industry adds, "As proof of the brand's corporate tagline, "Advancement through Technology", the Audi Q5 boasts of great innovations such as the Quattro all-wheel drive system with ultra technology, highly efficient engines, air suspension with damper control and a comprehensive line-up of infotainment and assistance systems. I believe it will continue to be the best-selling luxury compact SUV here in the Philippines."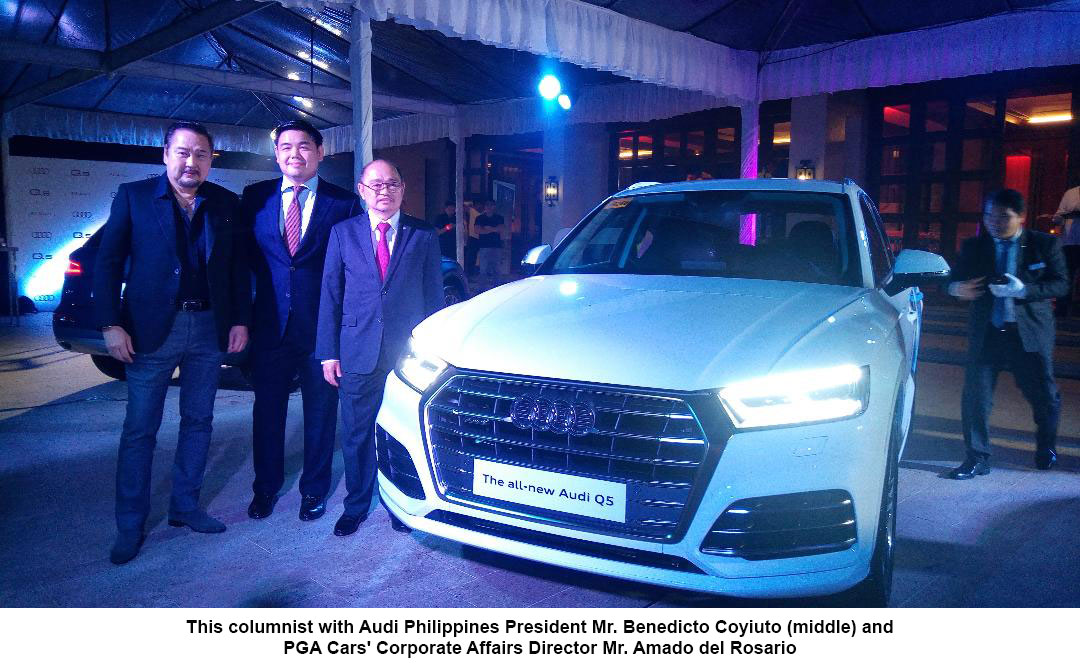 It was a well-attended event held at the Manila Polo Club where the guest line up is composed mostly of those of people who could most likely afford what's being launched joined by the motoring media most of whom only looked like we could afford. And in the midst of the swirl of businessmen and socialites all eager to have a glimpse of theAudi Q5 we saw business tycoon,Robert Coyiuto, Jr. withPorsche Philippines head, son Robert III (Ompee) busily making sure everyone's having a great time during the launch.
The Q5 comes in two variants, either in 2.0-liter TFSI engine with 250 hp or a 2.0-liter TDI engine with 190 hp both of which can run at a top speed of 220 kph.
PGA Cars ' Amado del Rosario invites everyone to take a closer look and a test drive at any of the Audi showrooms-Alabang, Global City, Greenhills or SM Seaside, Cebu City.
Safer Trucks and Buses with improved technology
With the aim of making our roads safer and to protect the mobile assets and cargo of its clients, MAN Automotive Concessionaires Corporation (MACC), the country's exclusive importer, assembler and distributor of MAN trucks and buses recently launched the MAN Telematics and Fleet Management System (FMS).
"This technology can help owners and fleet managers easily control their fleets, monitor the driver's performance, productivity and safety practices," says Ferdie Lu, managing director of MACC. "Ensuring the efficient dispatch and routing of trucks, truck and cargo safety, fuel consumption management and driver behavior and performance are challenges that the MAN FMS can help every truck owner and fleet manager with" he added.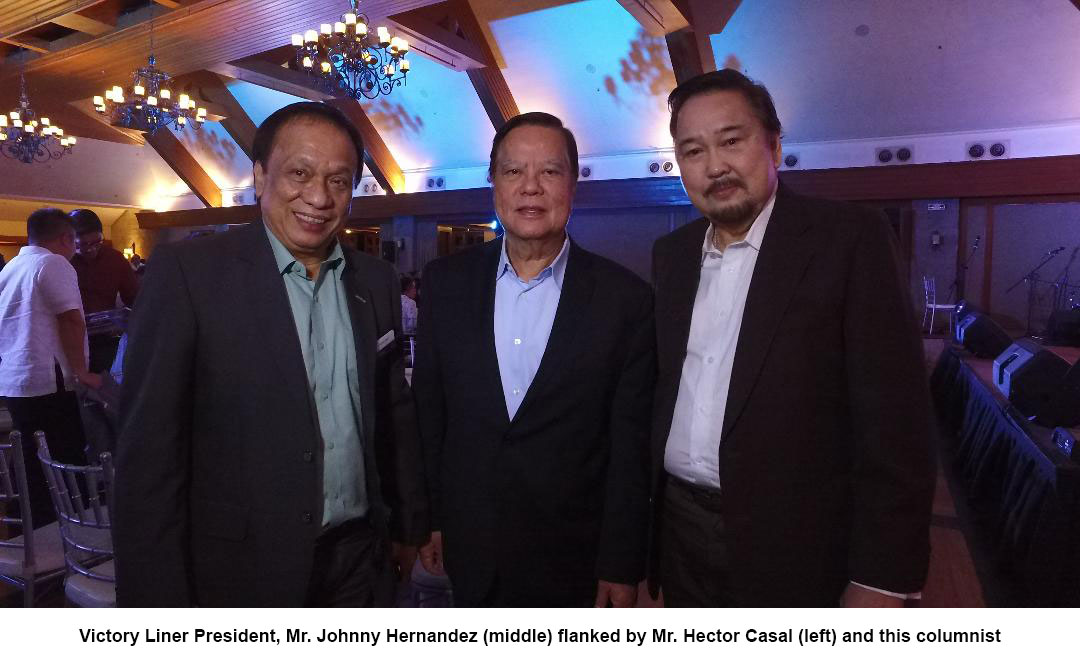 In a detailed technical presentation made during the launch, some of the MAN FMS multiple functions that were listed included the keeping track of all vehicle information such as vehicle speed, engine RPM, engine loading, coolant temperature, battery voltage, engine running time, driver on duty time, fuel consumption, vehicle service interval, etc., it also integrates with GPS (Global Positioning System) and a module like WAZE to guide the driver to the destination, it gives out audible and visual warnings whenever there is impending danger in forward collision, lane departure, pedestrian collision and other functions deemed not only beneficial to truck companies but likewise to other road users as a result of improved road safety with its use.
There was immediate acceptance from many of fleet owners present during the launching as actual orders were made with Victory Liner president, Johnny Hernandez on the lead confirming an order for 100 units of one of the MAN buses on display beside the launch venue. A total of close to 200 units were ordered before the event came to a close, which was arguably a testimonial to the importance of the truck brand's newly introduced technical innovations.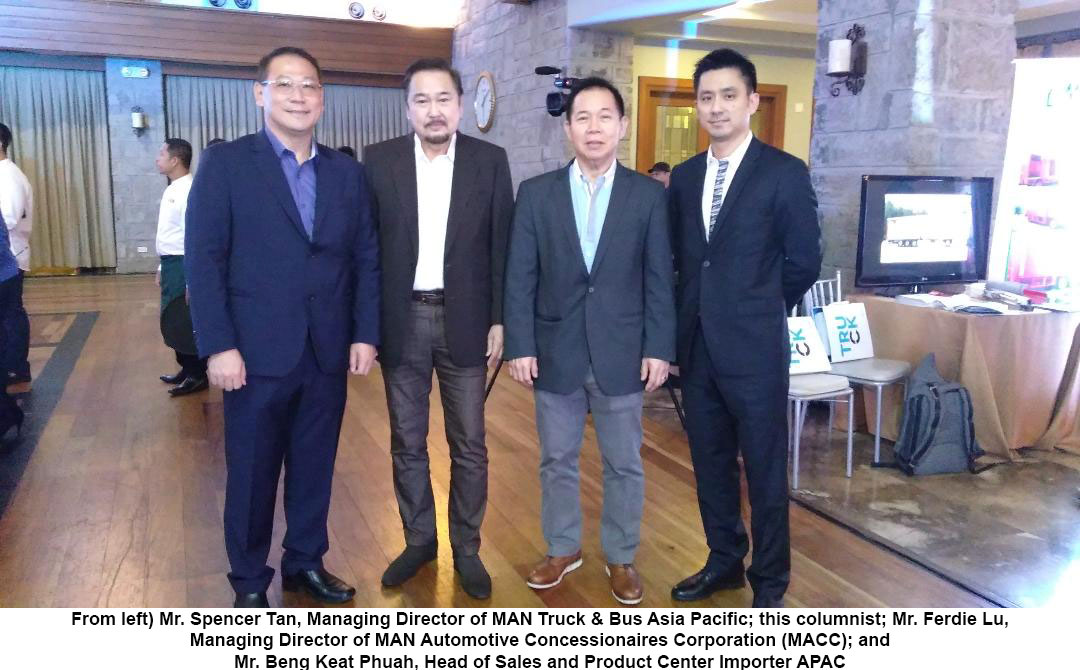 It was actually a twin event that MACC held on October 9 at the Manila Polo Club. Aside from the launch, it also marked MACC's 28th year exclusively handling the leading German industrial vehicle maker's interests in the Philippines.
Happy Motoring!!!
Websites to watch: www.motoringtoday.ph / www.autofocus.com.ph
For comments & inquiries (email) sunshine.television@yahoo.com