My having covered the motoring beat for a good thirty years can be amusing at times and frustrating in many instances. These feelings of mixed emotions especially come whenever a supposedly "new" measure is introduced to alleviate the daily woes of the metro's citizens and denizens in travelling from one point to another within Metro Manila.
As new anti-traffic moves are made one after another, I can only utter what one coffee TV commercial's main line would say, "Nakita ko na yan" (I've seen that before).
Please don't get me wrong. I don't fault our hard working traffic managers for endlessly laboring to come up with solutions to solve our now established way of life of having daily traffic gridlocks. In all these years I think I've seen many initiatives that could have made a big difference in solving our traffic woes. Many just didn't work because of the lack of consistency and follow through. The only thing consistent about most of these moves is their being "ningas cogon" (Good at the start but inevitably dies down).
Let's take the drive against colorum (illegal) buses. I read in a news report somewhere a quote from Senator Chiz Escudero reacting to a poised move by the MMDA to initiate an extra coding day saying, "Ang panawagan ko sa MMDA, pwede bang una nilang gawin, tanggalin lahat ng kolorum na bus sa EDSA na hanggang ngayon ay namamayagpag at tumatakbo pa rin" (I call on the MMDA to get rid of all illegal buses plying EDSA that are still running in abundance).
Whenever a new administration takes over the government's reins, a very spirited campaign against this menace of our roads almost always immediately starts, only to die down after a few months, which according to some quarters inevitably happens "due to a couple of millions of reasons." I don't know if this is true. I don't think so and I hope not. I remember a time when there was no more space to place these impounded colorum vehicles but somehow we just can't permanently get them to stop operating. They just keep on coming back "like an old song".
Many are of the opinion, this writer included that there are times that there are just too many buses running in EDSA adding to the unmanageable volume of vehicles. Proof of this is highly visible during non-peak hours, when hoards of near-empty buses compete for a lot lesser number of commuters-they add to traffic congestion, unnecessary fuel consumption and more air pollution-and a significant number of these buses are believed to be colorum.
Another issue that has found itself in a revolving door is the presence of provincial bus terminals within the metro. Since several administrations ago there were already findings that a big contributor to the volume of vehicles travelling through EDSA and likewise a further deterrent to the traffic's flow are provincial buses that illegally go through its length from north to south and vice versa and while doing so take on and unload passengers. But then our traffic managers have gotten it right to solve this, and that is to build mega provincial bus terminals on both ends of EDSA to service northbound and southbound provincial commuters. Part of the plans included the opening of PUV routes to conveniently bring commuters to these mega bus terminals.
I know serious efforts were exerted by the past administration to see the project through and if I'm not mistaken the southbound part of the plan has seen its fruition. But the other side of the project (northbound) seems to have hit a blank wall. And that's contributing to the problems of newly appointed MMDA chairman, Danilo Lim, who seems to be no nonsense in his job. He recently displayed this by padlocking nine provincial bus terminals in EDSA that evidently refused to tow the line. I guess that north mega provincial bus terminal is indeed a "must have" for the current administration. Some are of the strong belief that the Cubao bus terminal located almost at the heart of the metro, which services many of these provincial buses, is not helping any in addressing the problem.
As I said when I started, watching all these developments unfold and re unfold every now and then can be amusing and frustrating. But then we shouldn't stop trying.
Lexus LC 500 unveiling
The elegant and expansive showroom of Lexus-Manila in Bonifacio Global City was the graceful venue of the much-awaited launch of the Lexus LC 500 last August 10.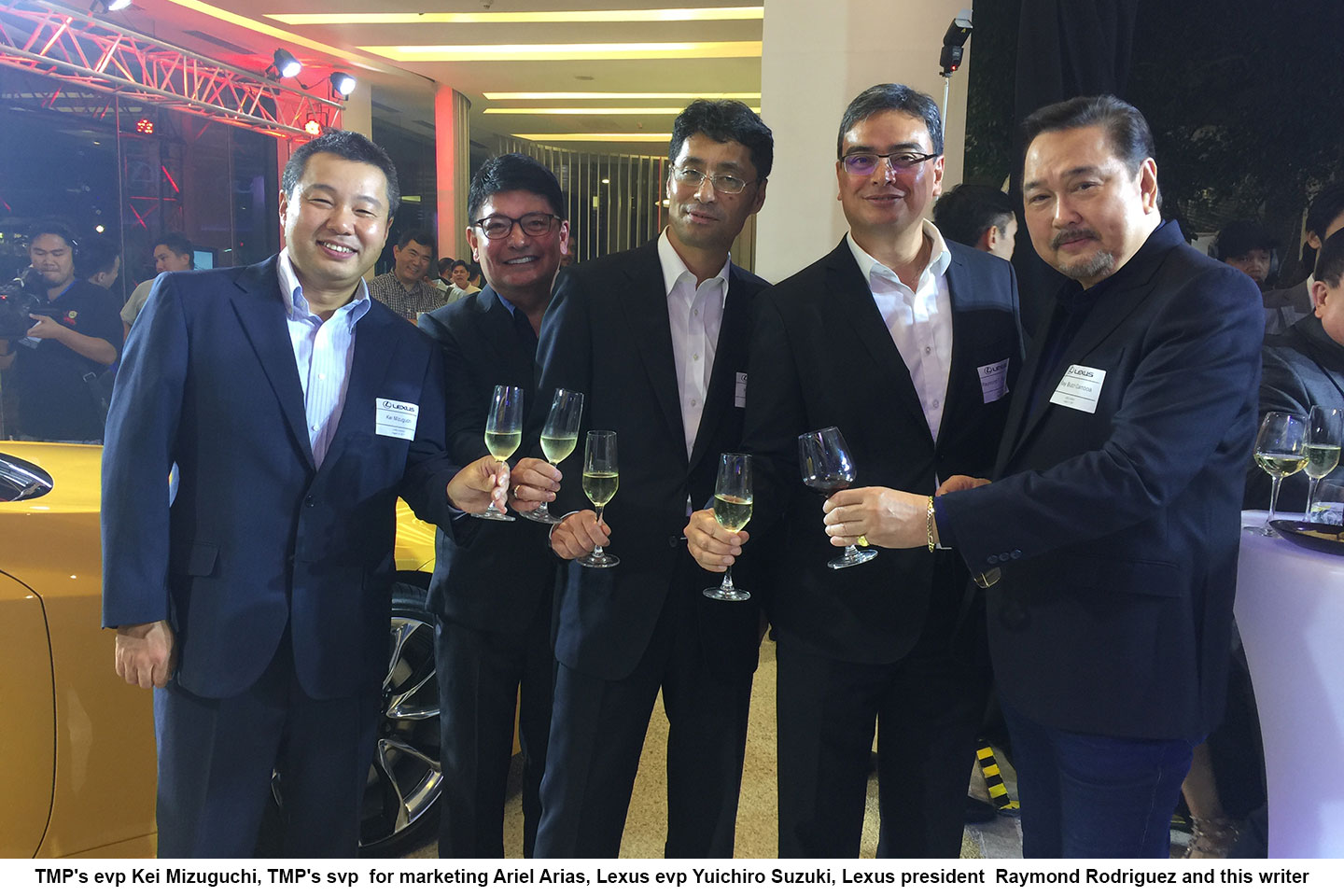 Attended by top executives of Toyota Motor Philippines, the motoring media and loyal Lexus customers the event may have given those in attendance a preview of things to come fromLexus with its reinvented tagline: "Experience Amazing".
The LC 500 brings near perfect images of the LF-LC, which was a concept car that made its debut five years ago in theNorth American International Auto Show in Detroit. The doubting Thomases were skeptical of the viability of turning a concept car with such perfection like the LF-LC into a production model.
Now here's the LC 500 to put all doubts to rest.
It's a great-looking car-the best of both worlds of having a sedan and a sports car. And you'll have to see it to appreciate it or better test-drive it to "Experience Amazing".
Some of its technical specs include 5.0-liter naturally-asperated V8 engine. The32-valve V8's output is at 477hp and389 lb.ft. of torque mated to a, and take note of this,10-speed automatic transmission - claimed by Lexus as the first ever in a luxury automobile.
I can go on and on describing the amazing automobile but lest I do it some kind of injustice by my mere words, I suggest you see it for yourself, get up close and personal and test drive it for an "Amazing Experience".
Hyundai increases market share
Hyundai Asia Resources, Inc. (HARI), the country's official distributor of Hyundai vehicles reports that it closed its July 2017 sales with a record-high of 3,594 units - a 21% growth from the same month of 2016. This propelled HARI's year-to-date sales to 20,960 units, an 8% growth from last year's 19,336 units.
Leading HARI's impressive July performance in terms of volume is its Passenger Cars (PC) segment, which grew by12% from in 2016 by selling 2,564 units in 2017. The significant jump in sales is again attributed to the Accent, which sold 1,608 units, accounting for 45 percent of total HARI volume.
Meanwhile, the Light Commercial Vehicles (LCV) segment also posted significant July year-on-year sales growth of 52% to 1,030 units. This is attributed to the H-100, which closed the month at287 units, more than doubling its output in July 2016.
Things are looking up for most in the industry. These are indeed good times for automobile manufacturers and importers.
TV streaming "on demand"
The best of both worlds for all motoring and car enthusiasts with any of these two websites: www.motoringtoday.ph or www.autofocus.com.ph
You can watch the 'streaming' of all the weekly past and present episodes of the TV showsMotoring Today and Auto Focus in their entirety.
Or if you don't have that much time you can just feast on all the latest news items about traffic management and the auto industry or the latest car reviews and head-to-head comparisons of the latest models and other motoring or auto features selectively.
All those news and features-only a click away.
Happy Motoring!!!
For comments & inquiries (email) sunshine.television@yahoo.com