No less than the president and ceo of Isuzu Motors Ltd. Japan, Mr. Masanori Katayama and the executive vice president and group ceo Machinery of Mitsubishi Corporation Japan, Mr. Kazushi Okawa together with MMDA general manager DOTr Usec, Thomas Orbos joinedIsuzu Philippines Corporation (IPC) president Mr. Hajime Koso and other IPC executives and associates in celebrating the 20th anniversary of Isuzu Philippines Corporation at the World Trade Center.
The presence of IPC's equity partners further embellished the occasion with Ms. Helen Yuchengco-Dy and Mr. Fernando Zobel de Ayala joining the traditional toast offered during the historical affair marking the formidable two-decade presence of Isuzu in the country.
"This country has become our second home and gave us the wings to soar higher than what we were 20 years back. We are looking forward to 20 years and more," emphasized the very friendly and gregarious IPC president, Hajime Koso during his remarks. "To our loyal partners, may you continue to put your trust on us and we promise that we will be finding more ways to meet your expectations," added Koso-san.
Shortly after the ceremonies, IPC executives proudly launched their new project: Isuzu's Blue Power Technology, which will be present in all Isuzu engines on all vehicles in its line up that will provide maximum engine output, cleaner emissions, superb fuel economy as well as engine durability.
The Blue Power engines will be standard on all D-MAX, mu-X vehicles as well as in all light, medium and heavy-duty Isuzu trucks.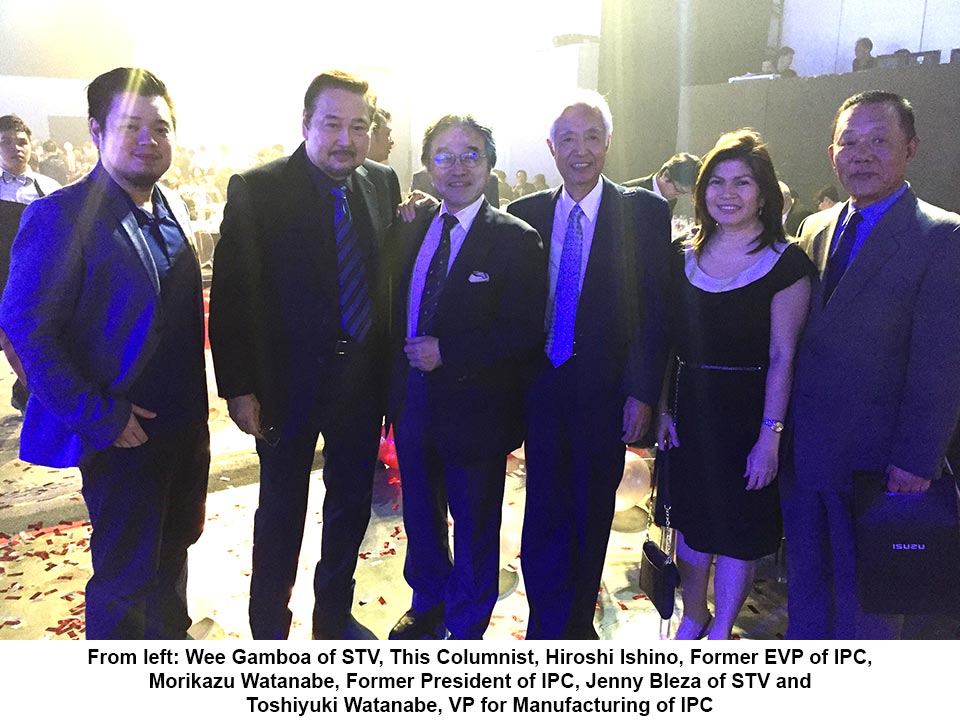 For the members of the country's motoring media who were invited to mark the auspicious event, it became a reunion of sorts with past top executives of IPC who joined in celebrating a milestone of the company they once helped steer to become a strong corporate entity in the local auto industry. Happily renewing friendly ties with the motoring journalists were Mr. Morikazu Watanabe, who not only had the distinction of being the first president of IPC when it was inaugurated up until 1999 but also of being the only president who would on most occasions deliver his speeches in Tagalog from start to finish. The gentleman had me in a disadvantage when he approached and gently asked if I remembered him. It was a very embarrassing senior moment for me until he showed me a picture of just the two of us together in one of those IPC events when he still had a larger body fame and probably 15 to 20 pounds heavier. The realization and eventual recollection merited spirited laughter and a very firm handshake from a very fit-looking gentleman in his senior years who I would gladly give credit for establishing a culture of respect and cooperation between top executives of Isuzu Philippines and the motoring media, which has been continuously carried on up to the present.
There was also Mr. Toru Koyasu, who replacedWatanabe-san from 1999 to 2004. Koyasu-san gave me memories of a very gentle-mannered Japanese top executive who was very approachable and kind.
Then there was also Mr. Hiroshi Ishino, fromIsuzu's staunch worldwide partner Mitsubishi Corporation, who was IPC's executive vice president during the presidential terms ofWatanabe-san and Koyasu-san. Motoring journalists who have covered IPC from the time it started would credit Ishino-san with pioneering adventure-laden test drive events that would bring the media to mountain climbing forays and daring watersports challenges to "bogey-pick up" golf tournaments that made instant tournament champions of unknowing participants.
Gentlemen, it was a real pleasure seeing you again after all these years.
Congratulations to Isuzu Philippines Corporation.
For car buyers' utmost convenience and comfort
Imagine yourself trying to decide what to buy between two car models, which are of two competing brands. Aside from getting a real up-close look and meticulous examination of both models, you would also want to follow the strict dictum prior to buying an automobile, which is to, "Test drive it, before you buy it".
But then if the dealerships of these two competing models were miles away from you, to achieve these "must do" steps, which are considered as very vital elements of the decision-making process in buying a car would take at least two days or two weekends for a working person, no thanks to the metro citizens' and denizens'' daily routine and way of life of horrendous traffic jams and gridlocks. But that's only getting to the dealerships to take a good look at the car. What about test-driving it? In stop and go traffic? Now, what if you were choosing between three models or more?
That's exactly why we conceived the concept of "multi-brand" test drive events, scheduled during the times of the year where historically car buyers find the time or the need to buy their first or next car-during summer and just before the Christmas season.
The Auto Focus Multi-brand Test Drive Festival not only comes up with a very convenient one-stop shop where you can find the country's top brands waiting for you to closely examine their models, it also offers an on-site test drive course where you don't need to brave the metro's notorious stop and go traffic, you would also be away from its criminal minds as well.
And since the first time we staged this industry event, car companies have realized that they owe it to their buyers to make it most convenient and most comfortable for them to get to know the car models that are being offered in the market. Besides it is already a known marketing fact that the best way to sell a vehicle (especially a good one) is to have it test driven to be better appreciated. And ever since we got the competing brands together record on the spot sales commitments and reservations have been on record, not to mention the very important brand presence in admittedly significant industry events such as this-a win, win for both buyers and sellers.
As a heads up for those who are contemplating on buying their first car or their next and for the car enthusiasts that are much interested to know what's the latest models in the market, here's a partial list (alphabetical order) of car brands and models that you can test drive to your heart's delight during the always much-awaited 4-day weekend event.
A. BMW — All-new BMW 2 Series Gran Tourer MPV, BMW 1,3 & X1 Series
B. Ford — Everest, EcoSport and Ranger
C. Honda — CRV, Civic, Jazz, City and Accord
D. Isuzu — Dmax, Mu-X and Crosswind
E. Mitsubishi — Montero Sport, Mirage, Mirage G4 and Strada
F. Nissan — X-Trail, Sylphy, Almera and Navara
G. Subaru — XV, WRX, Levorg and Outback
H. Suzuki — Ertiga, Celerio, Alto, APV and Grand Vitara
I. Tata — Indigo, Xenon, Manza and Super Ace
The 2017 Auto Focus Pre Christmas Multi Brand Test Drive Festival is happening on November 16 - 19 (Thursday to Sunday) at the SM Mall of Asia. Close to a hundred car models would be available for test drive. And from the last we heard, many of the participating car companies are lining up special promos and discounts just for the event. As for the details, watch out for further announcements in this column.
Remember the unquestionable rule before buying an automobile, "Test drive it before you buy it."
Happy Motoring!!!
For comments & inquiries (email) sunshine.television@yahoo.com