There are presently a lot of things on the table in this administration. And quite a slew is aimed to improve motoring in the country and the lives of motorists and pedestrians alike.
Like there's this legislation, which has been approved by the House of Representatives on second reading that would require all public utility vehicles (PUVs) to install close-circuit television (CCTV) and global positioning systems (GPS) trackers to prevent crimes and gather information to help prosecute criminals.
Once signed into law no PUV will be allowed to operate without the required aforementioned devices under penalty of stiff fines and penalties from driver's license and operator's franchise suspension or revocation to possible imprisonment. They should be authenticated and sealed by the Land Transportation Franchising and Regulatory Board (LTFRB).
The measure requires at least two CCTV camera units to be installed on every type of PUV. Replacing damaged or stolen devices will also undergo the same process of installation, authentication and sealing.
PUVs already in operation before the law is enacted should comply with the requirements upon renewal of registration or not later than six months after the promulgation of the implementing rules and regulations of the law.
The law though, no matter how airtight it has been crafted would only achieve its objective if and when it is implemented and implemented strictly without fear or favor.

Aside from the previously mentioned general objectives of the proposed legislation, the requirement of having GPS devices installed can help readily and handily track colorums or PUVs operating out of its franchise-mandated routes or without any franchise at all. Actually, during the installation itself, when done the way it should be done, PUVs without the legitimate papers can already be easily determined.
But then come to think of it there are laws in place against the operation of colorums, yet they still abound in our midst. I just hope this proposed legislation when enacted into law would not suffer the same fate-it's there but it's just there taken for granted with impunity.
Then there's this government allocation that runs into billions of pesos to implement a mass transport system that, again if properly designed and implemented can dramatically impact on the present state of disarray that our public transport traffic system is currently in.
An estimated Php 10.2 billion has been earmarked for the construction of the Bus Rapid Transit (BRT) system, split between two projects in Metro Manila and one in Cebu.
BRT Line 1 which starts from the Quezon Memorial Circle all the way to the Manila City Hall is expected to handle291,000 passengers daily while the EDSA BRT or Line 2, which will serve approximately 1.6 million passengers daily is designed with a pedestrian and bicycle greenway network. It is planned to have four routes to service EDSA Ayala Avenue toWorld Trade Center, Ortigas to Bonifacio Global City and NAIA terminals.
The Cebu BRT system (route unidentified) is expected to give daily service to 330,000 passengers.
BRT systems are designed with less polluting hybrid buses, which are scheduled to come in 5-minute intervals.
Our prayer for these projects is that no losing bidder would come forward and work for a nuisance TRO just to get back at the winning bidder and should there be any no judge would turn a blind eye to see it as it really is-a nuisance TRO.
But what's not just on blueprints but have been actually started is the planting of palm trees along commuter routes implemented by the Metro Manila Development Authority (MMDA).
It has been reported that the MMDA has so far planted1,000 palm trees along NAIA road inPasay City and actually aims to plant a total of10,000 to lessen pollution and transformMetro Manila into a "Green Metro".
Great job! And also in its own way helps improve the life of motorists and pedestrians alike and indeed a good sight for the tourists too.
Harley-Davidson of Manila shines worldwide
I have written about this outstanding feat pulled by my good friend,Felix Ang some weeks back but it was in Los Angeles, California during the 2017 Harley-Davidson Dealer Meeting held last August 23 where Harley-Davidson of Manila was officially recognized as the " Asia Emerging Markets' Dealer of the Year 2016" at the Harley-Davidson Global Awards Recognition Evening .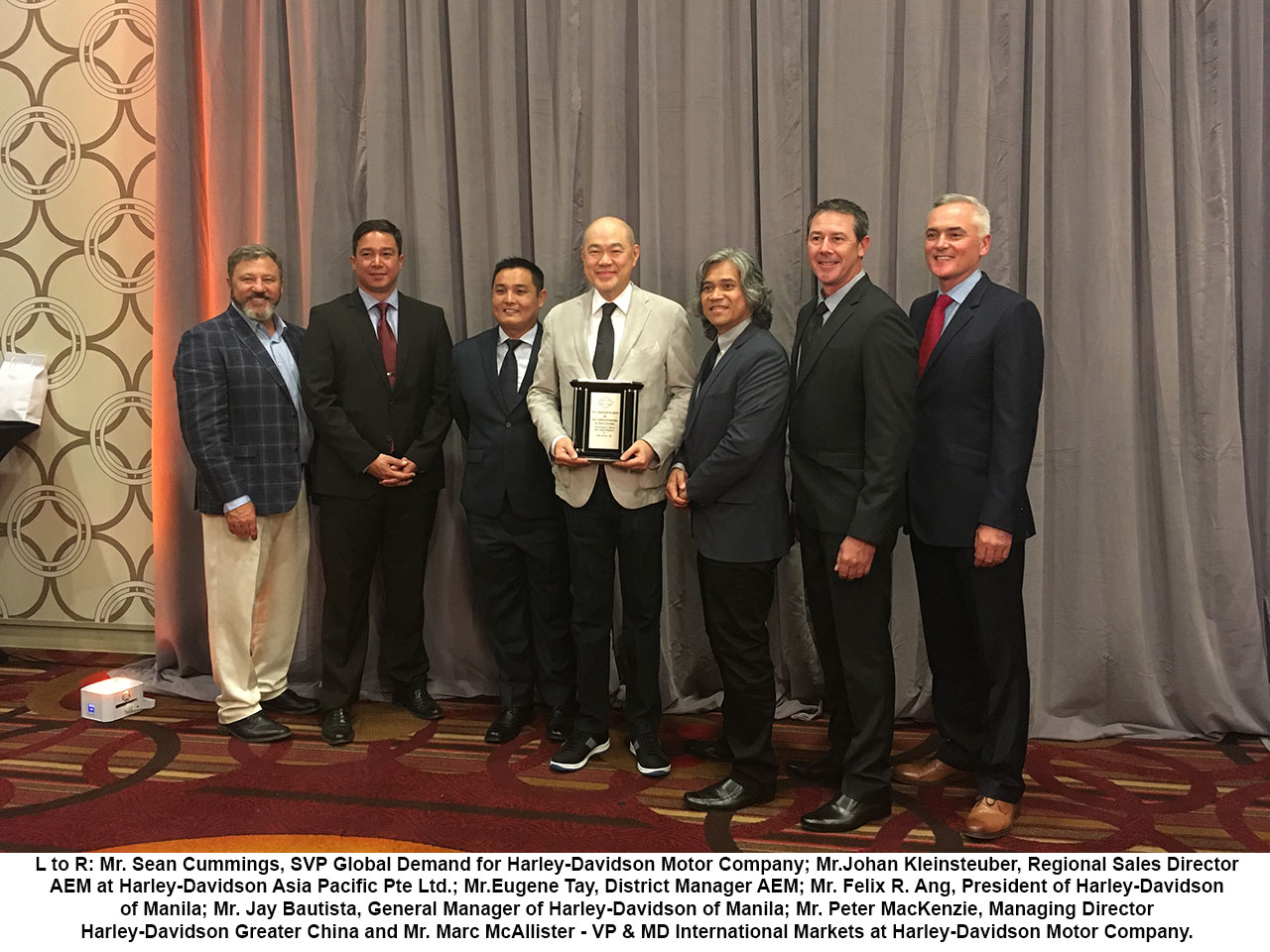 Harley-Davidson Motor Company and Harley-Davidson International gave the highly distinctive award at the Platinum Ballroom ofJW Marriott, Los Angeles. TheHarley-Davidson of Manila with Mr. Felix Ang at the helm as president is the first authorized dealership in the Philippines to earn this award.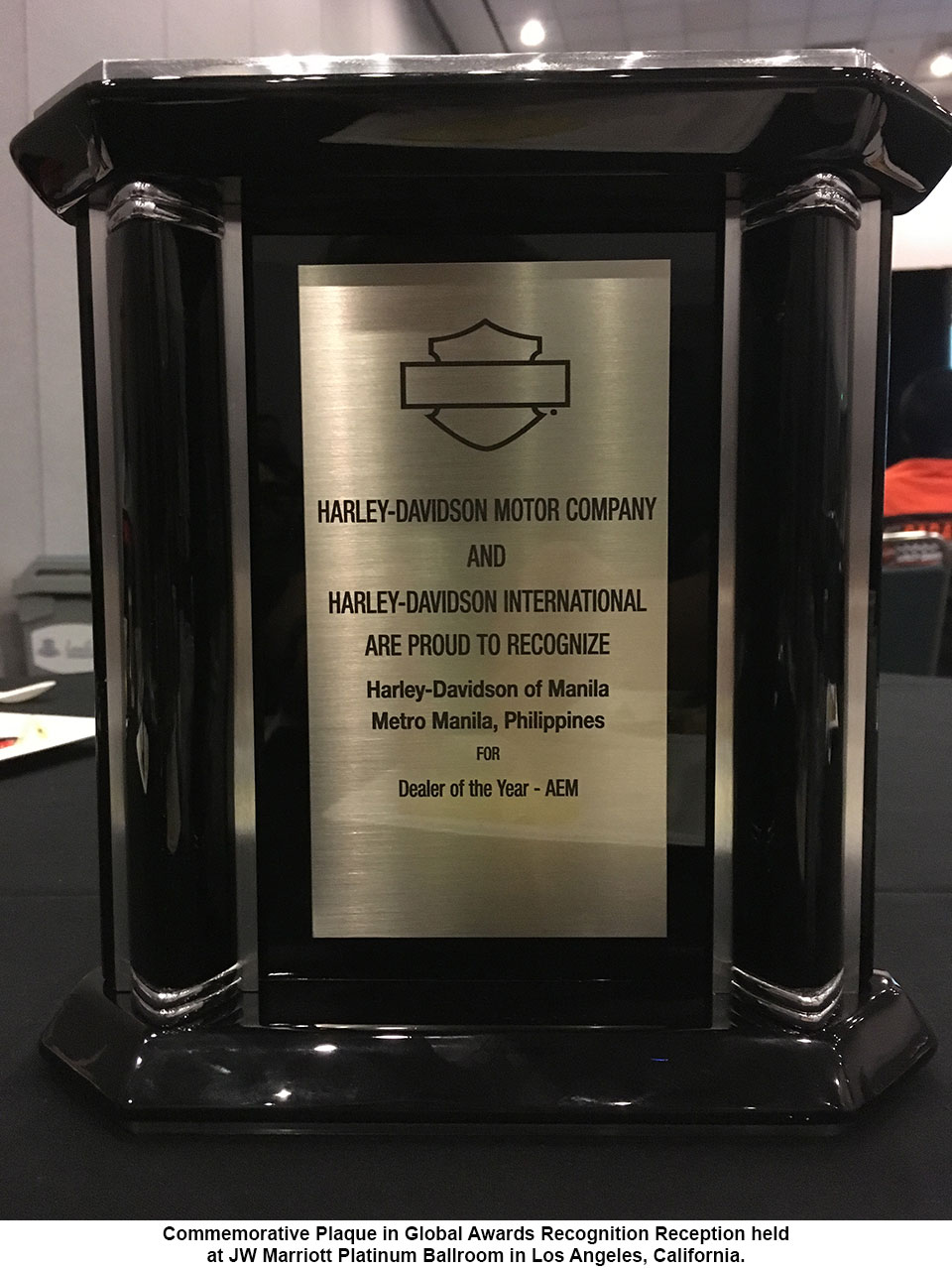 The Dealer of the Year award is a nod to excellence across all areas of dealership operations. Dealers are assessed across a strict criteria including;
business growth, customer experience, marketing and events including management/staff training.
Way to go, Felix!
Willy expands MINI
After more than seven years since MINI Global City stamped its mark of presence in the local auto industry and introduced a unique world of motoring experience thorough the various exciting MINI automobile models it has decided to expand its geographical presence in the metro by opening theMINI Alabang Pop Up Store at theMolito Complex, Madrigal Business Park in Muntinlupa City.
"We are excited to open this brand new MINI Pop Up Store and offer MINI enthusiasts in Alabang and surrounding areas an opportunity to engage with the brand," remarked Willy Tee Ten, president of British United Automobiles, Inc., the country's importers and distributors of MINI automobiles.
Watch at home or on your phone
Motoring enthusiasts and car buffs now have all the opportunity and convenience to watch the country's foremost motoring and car electronic magazines either at home or while on the move online at any time of the day via 'TV streaming on demand'.
Motoring Today, which is now on its 31st year of broadcast making it the Philippines' longest running motoring program continues to dwell with various facets of motoring like road safety, vehicle maintenance, driving tips, motor sports, traffic management, etc. airs all its past and present episodes on its website www.motoringtoday.ph.
While Auto Focus is on its 20th year showing car reviews, head-to-head comparisons of brand new models, the latest auto industry news, developments and events continuous to be regarded as the premier auto news and features electronic magazine that is exclusive to the automobile and its industry and can be watched on www.autofocus.com.ph.
Netizens have the option to watch entire episodes or selected portions merely by a click.
Happy Motoring!!!
For comments or inquiries (email) sunshine.television@yahoo.com