If you would look into official traffic accident reports that are on file you would find out that most of the causes of accidents cited were either mechanical failure or driver error.
In the case of the former, which is mechanical failure, the best but not necessarily the ultimate solution is for the country to have an honest to goodness 'motor vehicle inspection program' working in place that can really ban "rolling coffins" from our roads instead of what we have now, which is close to nothing.
As for the latter, which is the abundance of uninformed and poorly prepared drivers, the best solution is to have a stricter process in giving out driver's licenses and to have driving schools with a lot higher standards than what exist now.
And the Land Transportation Office (LTO) is right on spot with what they intend to do in order to level up the kind of drivers that we have now both for those driving private vehicles and especially those driving PUVs.
The LTO wants to have the following done, namely; to require driving schools to have their own test track and not to use public roads for their students practice and practical exams, to have all driving instructors accredited by TESDA, to require driver's license applicants to undergo simulation driving before undergoing practical exams and to have exams for driver's license applicants for professionals more stringent for non-pros and for those already with driver's license to undergo regular periodic re-exams.
To LTO chief, Assec.Edgar Galvante we say, "Let's do this!"
Petron Blaze 100 is Euro 6 fuel
It was more of an intimate gathering of invited motoring journalists representing varied media at theDiamond Residences in Makati City where Petron Corporation officially launched Blaze 100 Euro 6 to the Philippine market.
The country's market leader now lays claim to have the cleanest and most advanced gasoline in the Philippines, which even surpasses Euro 6 standards. "We are proud that Blaze 100 meets the world's best environmental and fuel technology standards. With the highest octane rating but the lowest sulfur content, it is the best gasoline in the market by far in terms of power, efficiency, engine protection and reduced emissions," declares Mr. Ramon S. Ang, president and ceo of Petron Corporation.
In a detailed presentation during the launch and media briefing, Ronald Chiong, manager for Technical Planning and Development of Petron Corporation stated that due to its pure formulation and very high octane Blaze 100 Euro 6 gives motorists six advantages and benefits, i.e., improved fuel efficiency, powerful engine performance and acceleration, guaranteed cleaner engines on just one full tank, improved combustion with its unique fuel and additive formulation, significantly reduced harmful emissions and reduced maintenance costs.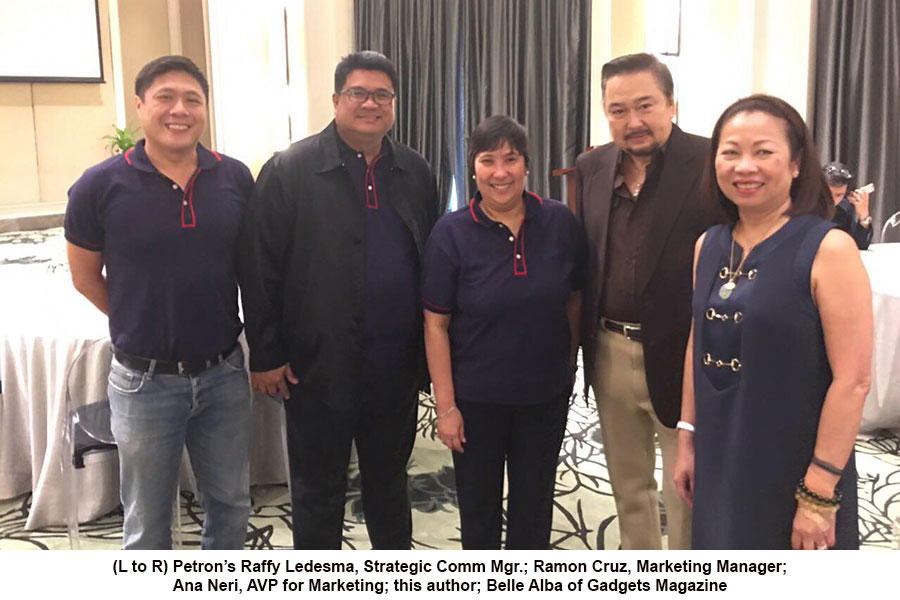 It may be worthy of note that despite government requirements only presently specify the use of Euro 4 fuels,Petron Blaze 100 is two levels higher at Euro 6.
Suzuki's simultaneous bike-launch
Two of Suzuki Philippines, Inc.'s (SPI) newest bikes were both launched recently at theWorld Trade Center during the staging of the 11 th Inside Racing Bike Fest.
The SV650, which Suzuki started in 1999 as a motorcycle built to deliver "V-Twin Fun" now comes with the latest version-the SV650/A. According to SPI, it comes in light in weight at 195 kg, which makes it more comfortable and easier to ride. Its slim body and developed truss pipe frame also set the new version different from its predecessor making it a rider's "go anywhere bike".
While the GSXR-100R, which is developed from its predecessor, the GSX-R's more than three decade-performance is being presented to come with better and innovated features like an all-new chassis with a lighter frame and an MU working in 6 directions along 3-axis-yaw, roll and pitch. Dubbed by Suzuki as the"King of Superbikes" the new GSXR-100R is launched as the embodiment of the pride, passion and expertise of the engineering team.
Suzuki Philippines currently ranks among the local motoring industry's fastest-developing companies with recently achieved sales milestones both in motorbikes and automobiles.
Chevron Launches Caltex Delo 400 MGX engine oil
The Bonifacio Ballroom of the Shangri-La The Fort was teeming with transport company owners and executives, members of the motoring media and Chevron executives last week for the official launch of the Caltex Delo 400 MGX SAE 15W-40.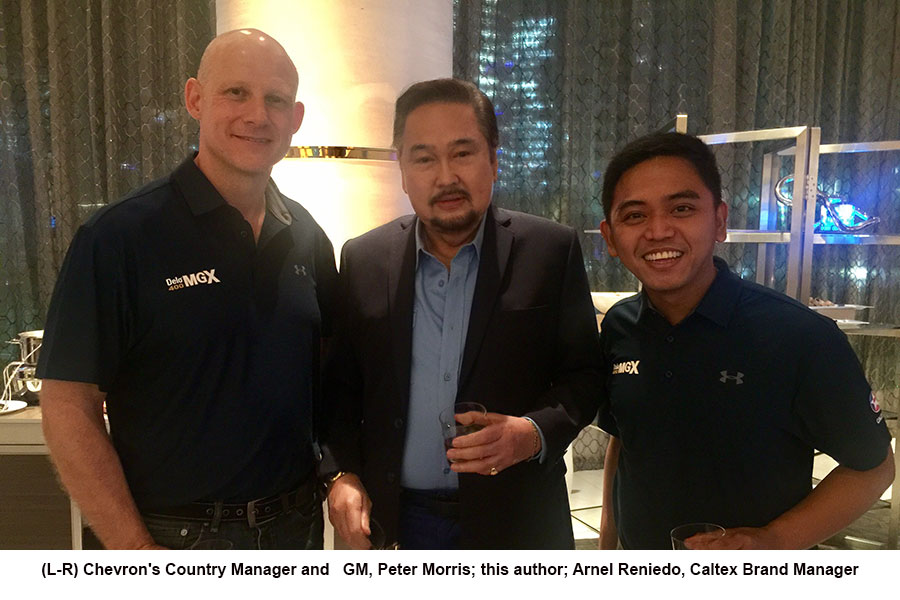 In a statement Chevron said that the formulation of its latest premium diesel engine oil constitutes a higher specification and is specially designed to comply with the Philippine market requirements. It will benefit both new and old diesel engines and allow customers to utilize just one heavy-duty engine oil that operates efficiently in both high and low sulfur diesel fuel environments.
"Heavy industry players are grappling with challenges such as excessive occupational heat exposure and maintaining an age-diverse fleet operating in both high and ultra-low sulphur environments. With the local launch of the Caltex Delo 400 MGX, an American Petroleum Institute and American and European Original Equipment Manufacturers standard compliant diesel engine oil, heavy industries can finally experience synthetic-like performance at the cost of mineral products, significantly reducing premium lubrication costs," said Joseph Bronfman, Chevron's Area Business Manager, Finished Lubricants Philippines & Vietnam.
Thoroughly field-tested in trucks using up to 5000ppm diesel fuel sulfur levels, Chevron reports that Caltex Delo 400 MGX has demonstrated an exceptional performance capability in neutralizing harmful acids and retaining alkalinity in extended-drain operations.
This newly launched premium diesel engine oil from Chevron is currently available in drum and gallon packaging through its appointed distributors.
Websites for motoring and auto enthusiasts
They are all there in the net waiting for you to click on - www.motoringtoday.ph and www.autofocus.com.ph for the latest in motoring as well the latest about the automobile and the auto industry.
Happy Motoring!!!
For comments & inquiries (email) sunshine.television@yahoo.com