I started something last year, which has received unconditional approval from all the industry players I talked to about it. This is to publish the data on car registration done all over the country from the LTO (Land Transportation Office) as documented by Stradcom, their long-time official IT provider.
In the absence of verifiable sales figures that come from varied sources, I felt that the official car registration data from the LTO would probably be the best and closest representation of how many vehicles were actually sold as registered by those who actually bought them.
Having said that, here's the list of the number of cars that were registered with the LTO from January to June, 2017 from 20 of the country's automobile manufacturers and importers arranged from the most number registered.
| | |
| --- | --- |
| 1. Toyota Motor Philippines | 97,413 units |
| 2. Mitsubishi Motors Philippines | 26567 units |
| 3. Ford Philippines | 18,669 units |
| 4. Honda Cars Philippines | 15,571 units |
| 5. Hyundai Asia Resources | 13,890 units |
| 6. Isuzu Philippines Corp. | 11,646 units |
| 7. Nissan Philippines, Inc. | 11,227 units |
| 8. Suzuki Philippines | 9,162 units |
| 9. Covenant Car Company (Chevrolet) | 3,192 units |
| 10. Columbian Autocar Corp. (Kia) | 2,829 units |
| 11. Berjaya Auto Philippines (Mazda) | 2,157 units |
| 12. Motor Image Philippines (Subaru) | 1,584 units |
| 13. Auto Nation Group (Mercedes/Chrysler/Dodge/Jeep) | 1,490 units |
| 14. Automobile Central Enterprise, Inc. (Volkswagen) | 621units |
| 15. Lexus Manila | 606 units |
| 16. Asian Carmakers Corp. (BMW) | 524 units |
| 17. PGA Cars, Inc. (Porsche/Audi/Lamborghini) | 318 units |
| 18. Pilipinas Taj Autogroup (Tata) | 253 units |
| 19. Eurobrands Distributor (Peugeot) | 187 units |
| 20. Bayan Auto (BAIC) | 160 units |
Next time, should space permit, I may be able to show here how the different models in the different car categories performed during the same period this year.
Changing of the guard at Mitsubishi Philippines
In fitting ceremonies attended by some of the country's auto industry leaders, government personalities, members of the motoring media, dealers and friends of Mitsubishi Motors Philippines Corporation (MMPC), a formal announcement was made regarding the appointment ofMr. Mutsuhiro Oshikiri as MMPC's new president and chief executive officer effective August 1, 2017, succeeding Mr. Yoshiaki Kato.
In an on-cam interview I had with Kato-san, I learned that after his Philippine assignment, which started in March 2015 he is bound to a majorMitsubishi facility in Adelaide, Australia to happily join his family.
Kato-san , at age 49 holds the distinction of being the youngest president and ceo that was assigned to MMPC. Although having quite a short term of only 2 years and 2 months he has lead the company through several milestones. It was during his term when MMPC officially moved its manufacturing plant and offices from Cainta to Sta. Rosa-not an easy transition in terms of logistical preparations and employee concerns. Also worthy to note is that it was during his watch when MMPC ventured successfully to join the country's CARS program and was also able to record its highest production output ever in May 2017 and with a record 61, 400 units sold last year, the highest annual sales so far that MMPC has ever registered.
As for the new MMPC head honcho, Oshikiri, which he said during our on-cam interview he wants to be addressed, was previously assigned as ceo of Mitsubishi Motors Australia, a position he has held since 2012.
According to an MMPC release Oshikiri-san's vast experience in handling various foreign markets (Oceana, Aseana, Thailand, Caribbean) with Mitsubishi Motors Corporation and his expertise in the field of marketing and aftersales he is expected to drive MMPC towards more successful years ahead.
MMPC also aptly took the opportunity to present in the same well-attended event the first "Made in the Philippines"Mitsubishi Mirage G4 Hatchback off the assembly line-part of their 2-model entry (the other is the Mirage G4 Sedan) to the government's CARS program. Previously imported from Thailand, the Mirage G4 Hatchback is now being produced locally following a P4.3 billion investment by MMPC in its production facilities.
Welcome to the Philippines, Oshikiri-san!
Honda's 3-model media test drive to City of Pines
I almost changed my mind about joining the overnight Honda Media Test Drive to Baguio held last Tuesday, July 25. While I was preparing Monday night for a Tuesday"early" morning call time, it was only then that I was really able to read the itinerary that to my surprise said "early" was five o'clock in the morning, which I always jokingly refer to as the time when I usually just start on my deep sleep-although there are times when that's no joke. That's probably why our production manager, Jenny Bleza begged off-sneaky. But then I have already sent word that I shall be happy to join to the new president of Honda Cars Philippines, Mr. Noriyuki Takakura. A commitment-the dye is cast. Our contingent included STV's Online Operations Manager, my son Wee and STV ace cameraman, Matt Mallari.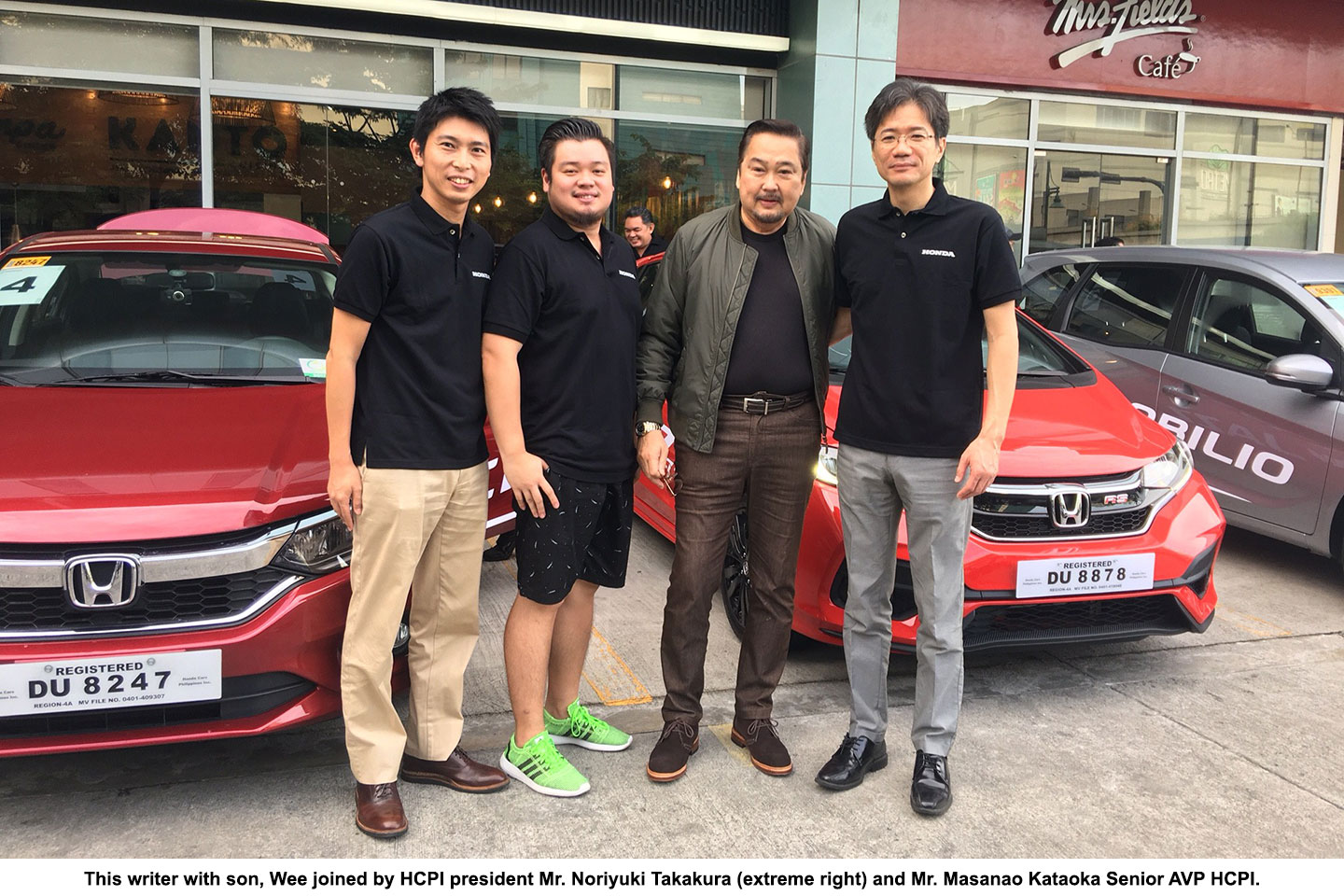 Three models were lined up for test drive; the new City, the new Jazz and the new Mobilio. Several of them were parked in front of the meeting place where breakfast was served, the7107 Culture+Cuisine in Bonifacio Global City. I forego breakfast in exchange for a few more hours of sleep. I arrived just in time for the scheduled departure of the test drive convoy.
The test drive route was well designed by Georges Ramirez (well, he plots all the exciting ARCC routes) so that the participating motoring journalists would be able to experience and appreciate most, if not all of the vaunted features of these current top-selling Honda models.
Coming from BGC on the way to the tollways, there's no way you cannot experience stop and go driving along traffic-infested EDSA. And of course there's the drive through NLEX and TPLEX and on to the snaking and winding roads of the Marcos Highway to Baguio.
The 5-hour road travel aboard these remarkable models, which have identical 1.5-liter SOHC i-VTEC engines with 120 PS of power and 14.8 kg-m of torque gave the driving or riding motoring journalists a first hand experience of the bannered attributes-for me all worth my unusual early morning wake up. And as for a bonus was a hearty lunch of crackling bagnet and fresh Baguio veggies at the Cafe Adriana by Hill Station and an overnight stay at the new Grand Sierra Pines Hotel.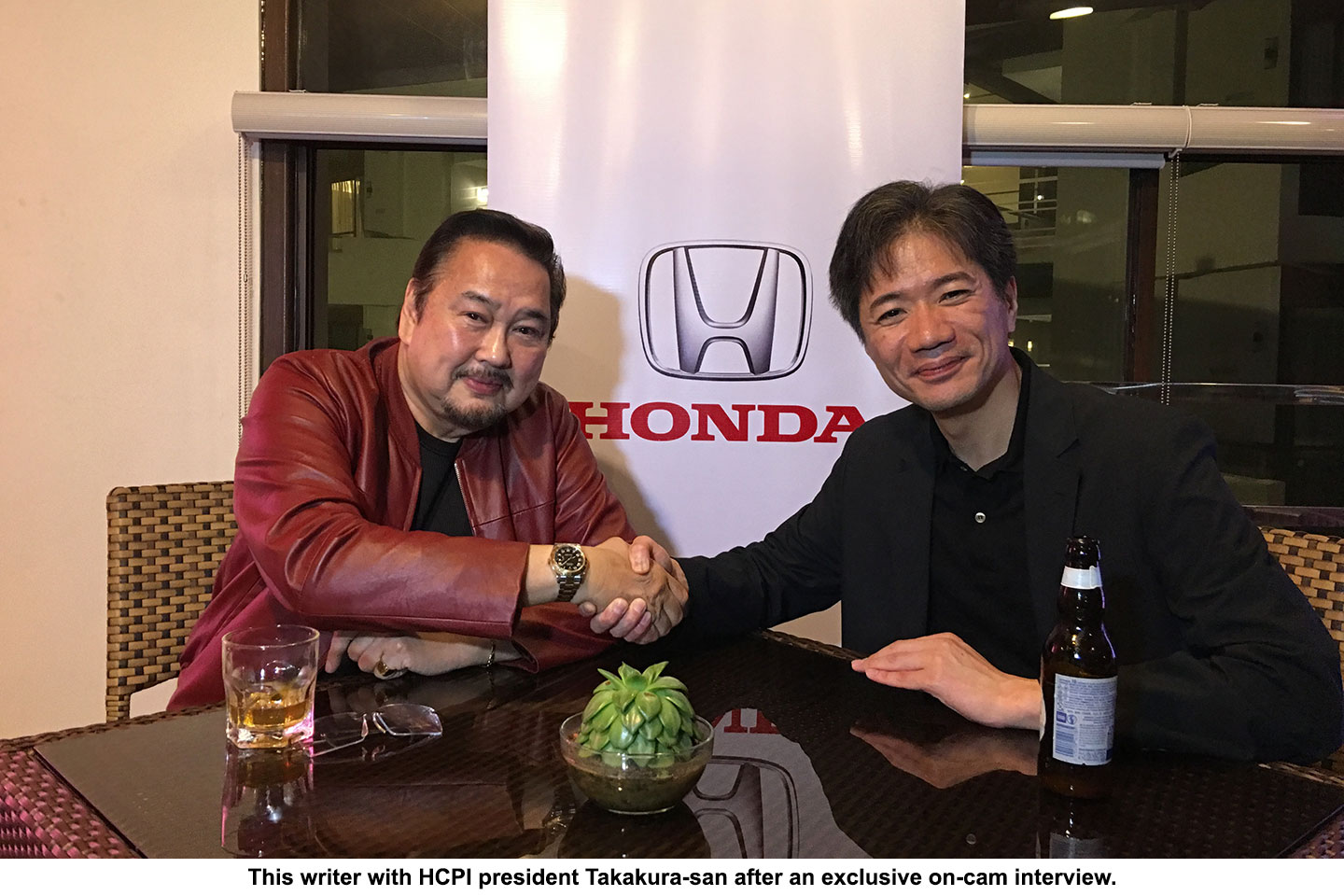 New Honda Car Philippines president, Takakura-san turned out to be, like his predecessor, Kuwahara-san, very likeable and very polite but straight forward-another added bonus of the trip.
As for the motoring journalists who joined the test drive, the consensus was a triple thumbs up for the trio of Honda models that were test-driven-the City, Jazz and the Mobilio.
Happy Motoring!!!
For comments & inquiries (email) sunshine.television@yahoo.com