That's the norm, you don't buy a vehicle not unless you have test driven it. If you have fallen in love with a car and are raring to purchase it, you need to hold your horses for a while, take a deep breath and insist to yourself that you won't part with your hard-earned money until you have had the chance to have your hands on the steering wheel and have actually driven it or ride on it at the very least. Just to make sure your emotions are not getting the better of you and you have your mind engaged before you finally decide to buy your first car or your next, go ask for a test drive.
And that's exactly what we have to offer all car buyers and auto enthusiasts for the next four days starting tomorrow, Thursday, April 21 at the SM Mall of Asia concert grounds. The very convenient opportunity to see, up close and personal and test-drive the best automobiles that the country's major automobile manufacturers and importers are currently offering the market.
The 2016 Auto Focus Summer Test Drive Festival is virtually a "one-stop shop" for brand new car models from BMW, Chevrolet, Ford, Honda, Isuzu, Jeep, Lexus, Mitsubishi, Nissan, Suzuki, Toyota and Volkswagen.
All these modern day carriages will be in a single accessible venue waiting for you to compare each and every one you fancy, feature to feature with the all important test drive before you finally put your finger on one, the one that shall be in your garage for years to come. And your choice was confidently made after your decision-making process was finally concluded with a test drive. And this exercise was conveniently done without having to go from one dealership to another while crisscrossing the metro driving through traffic gridlocks and all. How convenient.
And for the participating car companies to better demonstrate their vehicles and for the buyers to better appreciate their features like riding comfort, handling, maneuverability, braking power, etc., in a most convenient way, a test drive course has been designed within the event venue itself to bring out the best of these features that the car can offer.
Although the test drive activity runs for four days, from Thursday to Sunday, test drive hours have been extended to 9 o'clock in the evening to allow those who would get caught in traffic gridlocks while coming from work.
As promised by the participating automobile companies, there will also be freebees, special promos and preferred financing schemes for those who would actually make purchases during the test drive period.
Remember, don't buy it until you test-drive it.
At the 2016 Auto Focus Summer Test Drive Festival, admission is free and so are the test drives!
Gatorade for your votes
Gatorade is showing its full support for the efforts to determine the year's most popular automobiles, the Automobile of the Year—People's Choice for Standard and Luxury models.
Starting tomorrow, Thursday up to Sunday "on site" voting for the Auto Focus People's Choice Awards shall be conducted at the venue of the Summer Test Drive Festival at the Mall of Asia concert grounds.,
Want a Gatorade to rehydrate and refresh you in this simmering summer heat as you go around appreciating and test-driving all those cars?
Then go cast your vote!
The Suzuki Ciaz is here!
"Suzuki automobiles registered an almost 50% increase in its sales in 2015 compared to the year before that. With that unprecedented sales performance we feel the Philippine market is ready for other Suzuki car models like the Ciaz," was the confident statement of Suzuki Philippines president, Mr. Shuzo Hoshikura during the on cam interview we did during the launch of the Ciaz last week.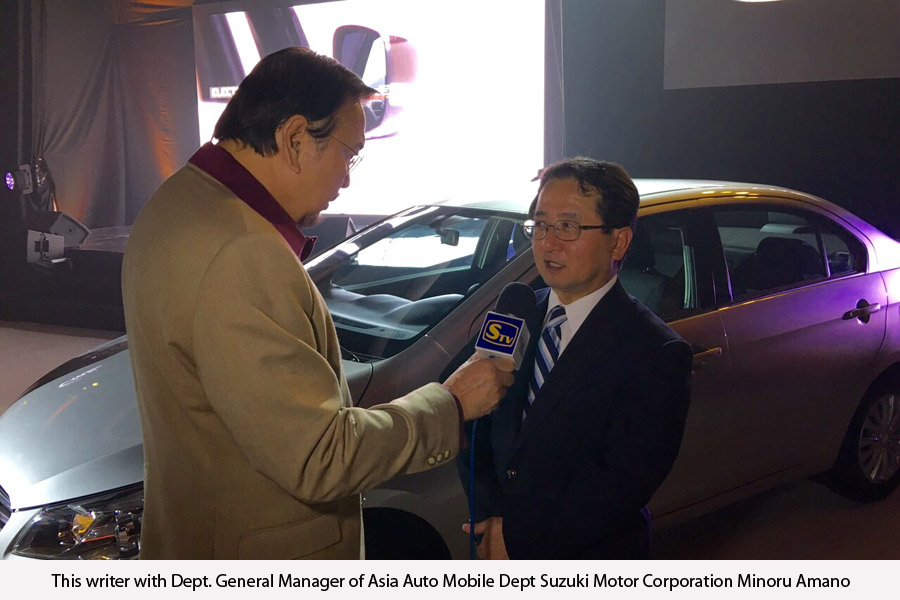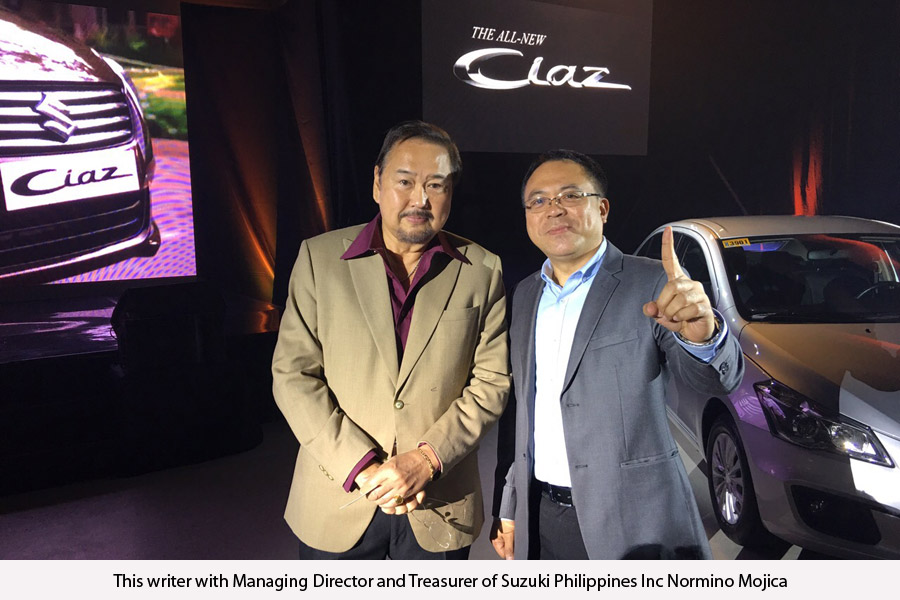 The Ciaz , which actually means, 'City—from A to Z' is a sub compact sedan that stands out as the biggest in its category. It is powered by a 1.4L K14B inline-4 powertrain with a maximum output of 98PS@6,000 rpm and max. torque of 130Nm@4,000 rpm.
It comes in three variants, namely; GL with manual transmission, which is priced at P738,000.00, GL with automatic transmission whose SRP is P773,000.00 and the premium GLX that sells for P888,000.00.
One of the Ciaz's outstanding features, which you can find in the GLX variant boasts of an Android touch screen with Bluetooth and USB connectivity for tablets and smartphones with preloaded apps like YouTube, Gmail, Facebook and, this one takes the cake, Waze for the traffic-dodging Pinoy motorist.
You don't need a long review to get to know the Ciaz better. It'll one of the main test drive attractions of Suzuki Philippines during the Auto Focus Summer Test Drive Festival, which starts tomorrow at the SM Mall of Asia.
Ayala to manufacture and distribute "Ready to Race" motorcycles
In its recent annual stockholders' meeting, a major part of Ayala Corporation's announcement regarding corporate investments is its joint venture with KTM AG, a leading global motorcycle manufacturer, to both serve as the exclusive local distributor of KTM products and to manufacture motorcycles for the Philippines and for export to China and Southeast Asian countries.
For decades, KTM has been at the forefront of motorcycle engineering and technology, building vehicles that are "Ready to Race". The venture is expected to enhance the Ayala Group's existing offerings under their automotive group lead by their exclusive distributorship of global brand, Volkswagen.
It's not only the car industry that's really getting to be exciting with new players coming in. Now look who's "the new kid on the block" in the motorcycle industry.
What's on Auto Focus tomorrow?
It's another exciting episode that awaits automobile enthusiasts tomorrow evening at 10 o'clock on Solar Sports (Channel 70, Sky Cable and Channel 35, Destiny) when Auto Focus, the premier auto TV magazine airs a review of the Mazda MX-5 and features the 2017 Honda Civic Hatchback. The weekly automobile show shall also have a head-to-head of the Toyota Camry versus the Nissan Altima and the highlights of the recent launch of BMW's flagship 7-Series plus the latest news and developments in the local auto industry.

Happy Motoring!!!
For comments (email) sunshine.television@yahoo.com