If you'll just take the time to check out the current votes/sales tally of this year's search for the country's most preferred automobile models in the different vehicle categories and the most popular automobile model distinct between Standard and Premium/Luxury vehicle groupings you'll find it most interesting if not outright intriguing.
You can catch the standing vote/sales tally by logging on to the Auto Focus People's Choice Awards voting website (www.autofocus.com.ph) and you'll get the surprise of your life as you see some inexplicable combinations of votes and sales.
Please note that the formula being applied to determine vote tally is the combination of units sold and votes cast for each model and are given specific vote weights of 20 percent forsales and 80 percent for votes.
Let's first tackle the very close standing tally for the title of 2017-2018 Automobile of the Year for Premium/Luxury models. Leading is the Honda Odessey with 983 votes cast and 212 units sold for a total of 788.80 points with the Lexus RX350 coming as a very close 2nd with 901 votes and 205 units sold for a total of 761.80 points. These two models have been having their ups and downs since the public polls started and would surely go down the wire by the end of the voting midnight of October 31.
Still in the Premium/Luxury model group this time in the search for the most preferred models we have theMercedes-Benz A-Class leading in theLuxury Sub Compact category with a total of109 points having 118 votes with73 units sold against the Mini Cooper's 54 votes and a whooping 145 units sold for only 72.20 points. This case in point shows a model leading in sales by a unit short of 100 percent but losing out in votes by almost 120 percent.
While in the Luxury Compact category the Lexus IS 350 leads with 906 votes totaling 82 units sold for 741.20 points as against the second placerMercedes-Benz C-Class with 132.60 points with only 130 votes but leading in sales with 143 units sold.
With Luxury Sports Cars the Lexus RCF has 2 units sold but with 908 votes to make it lead with 726.80 points over the Audi R8 with 15 units sold but only 244 votes good for 198.20 points. But what takes the cake is the3rd placerDodge Challenger with a fantastic sales output of 30 units but only 131 votes for a score of only 110.80 points.
Here's another odd one in the Premium/Luxury Van category where the Honda Odyssey has788.80 points combining 933 votes with212 sales to lead over the Toyota Alphard with 476 units sold but with only 46 votes for a score of only 136 points.
For a more complete tally of votes check out the Auto Focus People's Choice Awards voting website (www.autofocus.com.ph) where the standing tally includes those of Standard and Premium/Luxury models.
Voting online has been extended to October 31 with daily electronic raffles are held, which gives away Auto Focus merchandize items like T-shirts, coffee mugs, clocks, etc. are given as prizes.
Nissan X-Trail gets better
It was in 2004, when I first got the chance to test drive the Nissan X-Trail right after it was first launched in the country. It was indeed a long drive that brought the motoring media all the way to a beach resort in Cavite, whose name escapes me at the moment.
But what's more important than the actual place is the vivid memory I have about how the X-Trail performed remarkably during the test drive. And how impressed the journalists, this one included about the power, comfort and convenience it offered driving or merely riding on it despite the distance and the flip-flopping weather we went through that whole day.
Part of the test drive was some challenges that the members of the invited media had to go through and excel in to merit prizes by the end of the day during dinner. But most of the challenges had something to do with demonstrating some of the outstanding features of the X-Trail. I remember one of which was to highlight the sturdiness and reliability of its suspension system by offering a prize for the journalist who could create the biggest water splash when the X-Trail was driven into a knee-deep pool. I also remember having won that challenge by driving full speed in complete abandon straight to the pool and created quite a splash good enough to win some kind of an electronic device for a prize—fun.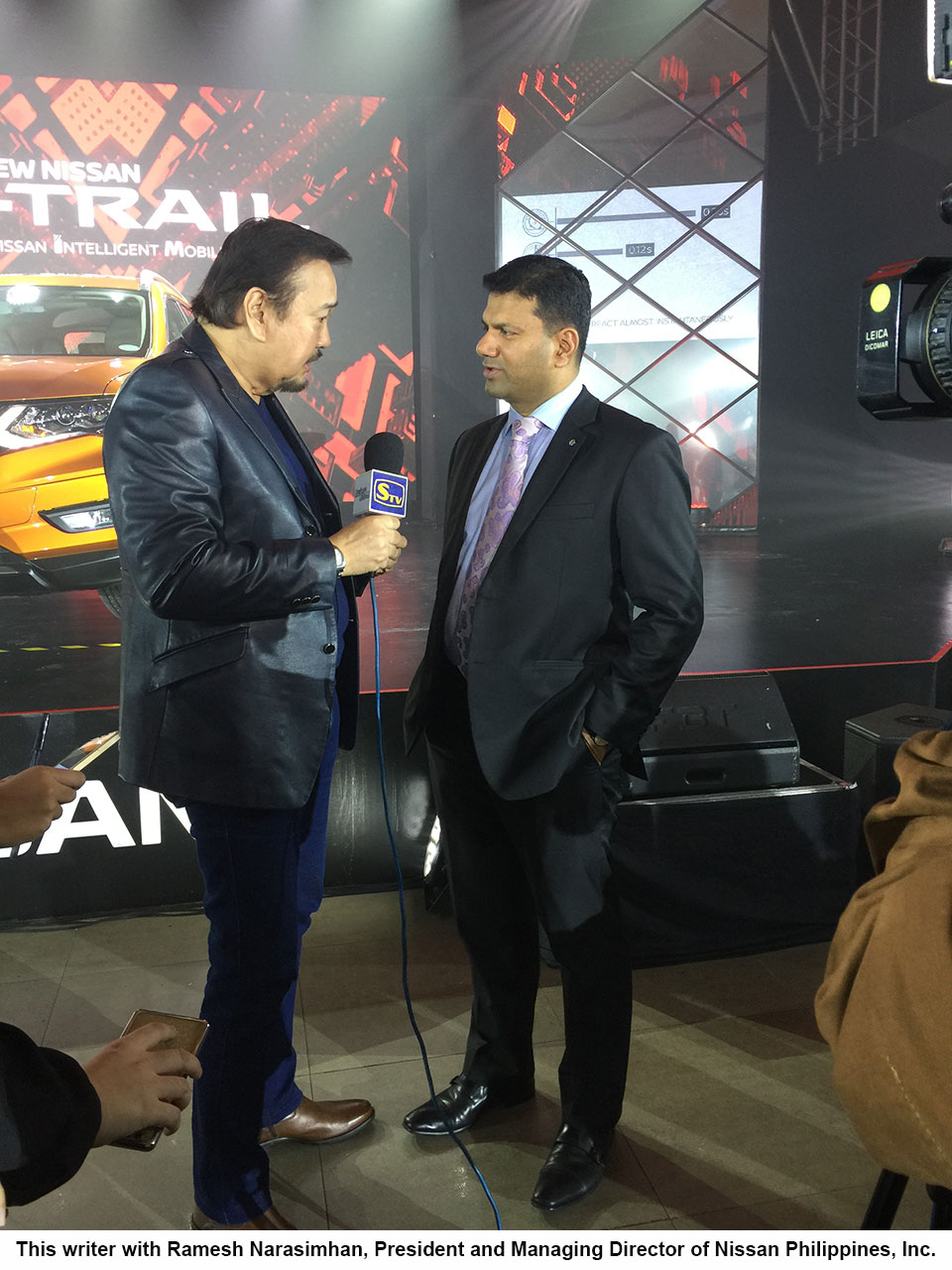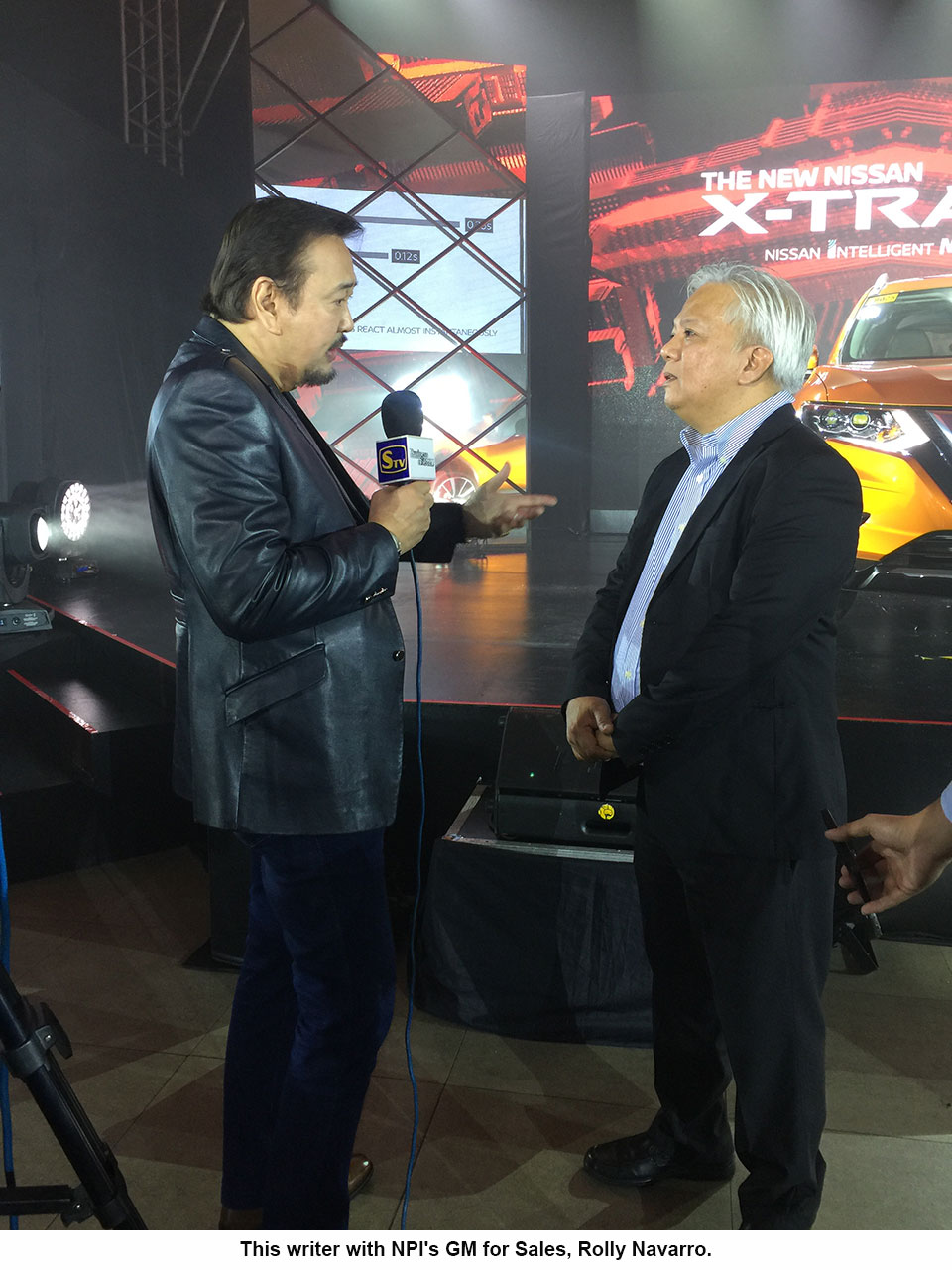 Fast forward to last Tuesday, September 12 at theBlue Leaf Filipinas events place in Parañaque City with the new enhanced version of the same popular compact crossover on center stage gleaming under the spotlight with Nissan Philippines president and Managing Director Ramesh Narasimhan, nattily-dressed while addressing motoring journalists who braved the stormy day just to have a glimpse of Nissan's new market offering, "The Nissan X-Trail offers enough room for families and groups who love to go on the road trips. With Nissan Intelligent Mobility, our customers can enjoy each adventure as they drive safe and sound. We want them to treat the new X-Trail as a partner that looks out for them so they can have a fun and hassle-free time on the road."
The suave Nissan Philippines president presented that the Nissan Intelligent Mobility technologies offer an improved way of driving by way of the following;Around View Monitor that improves drivers with a360-degree perspective for easier navigation, Moving Object Detection that sends a visual and audible alert when there's movement around the vehicle, Blind Spot Warning that detects objects in the driver's blind spot, Forward Collision Warning and Intelligent Emergency Braking that sends a visual and auditory warning, and applies an emergency break to avoid collisions, Rear Cross Traffic Alert that alerts the driver to unseen vehicles while reversing, and finally the 4x4-I System that automatically adjusts power distribution to give drivers full control of the vehicle as they take on challenging road conditions.
There's a slew of enhancements in the new X-Trail 's aesthetics that I would rather you see and appreciate yourself by visiting any of the Nissan dealerships located nationwide and top it off with a test drive for a hands-on feel of any of its two variants— 4x4 or 4x2.
In your office, at home or on your phone
That's how convenient it is now to find out the latest transportation and traffic management news, vehicle maintenance and road safety tips, international motorsports events, together with all the other varied facets of motoring just by clicking on www.motoringtoday.ph.
While for reviews of the latest automobile models as well as head-to-head comparisons of their features, car launches and test drive events, and anything and everything about the automobile and its industry there's www.autofocus.com.ph.
Both websites are the online versions of the TV magazine shows Motoring Today and Auto Focus and they offer the best of both worlds to viewers—a choice of selective viewing of portions or watching the entire episode on its 'TV streaming page' to include past episodes as well any time of the day.
Happy Motoring!!!
For comments & inquiries (email) sunshine.television@yahoo.com