Yes, we now see hordes of traffic enforcers strictly enforcing the 'yellow lane' rules along EDSA. But is it really enforcing them strictly, the only way to go to be effective in achieving the ultimate goal of managing traffic?
If you will look at the figures recently released by the MMDA the agency has cited in a span of a few days over 500 drivers of both PUVs and private vehicles for violation of the rules regarding the use of yellow lanes. But despite this, we still see a lot of these violations especially among bus drivers and with impunity at that.
Many bus drivers have maintained their arrogance in showing their utter disregard for traffic rules, especially about the limitations set by the yellow lanes with their perennial "me first" attitude in their quest for passengers, which is still paramount in their mindset. A mindset ingrained since the establishment of the "boundary system" as the only way to determine the present inequitable sharing of driver and operator.
It is my firm belief that as long as we do not put a stop to the long drawn malpractice of the "boundary system", we shall always find it very difficult to make drivers obey any rule that would jeopardize their being able to reach their "boundary" requirement and succeed to put food on the table on any day they ply their route. Make drivers regular monthly salaried employees and we will see a complete turnaround among their ranks. We will start seeing drivers queuing for passengers instead of dying or killing just to have them.
And now the MMDA now appears to have noticed that the supposed strict implementation of the rules is not working well enough to achieve a better traffic flow along EDSA, as the metro's traffic management agency is now mulling higher or stiffer penalties for violators.
There are a number of factors that cause the daily traffic woes of metro citizens and denizens and the lack of PUV drivers' discipline is one main factor among them. Give our PUV drivers the dignity of being a regular salaried employee and you will see a better-disciplined driver who's proud to be called and known to be one.
Besides there is already a law passed to stop this highly inequitable "boundary system" of public utility driver's remuneration. With this supposed "strong willed government", why can't we implement it?
Are new taxi apps better options?
A lot have been said and are still being said by commuters who feel that having no better options, they are left with nothing else but to choose between the two existing app-oriented transport hailing companies.
But Land Transportation and Franchising Regulatory Board (LTFRB) chairman, Atty. Martin Delgra may have some good news for those who feel that they just have to "bite the bullet" in some situations and pay higher transport fees for one reason or another like "high demand", with the possible approval of at least two taxicab-hailing apps perhaps before the end of the year.
These up and coming apps that have been named as 'MiCab' and 'MyRide' are described to be operable in six or seven other regions outside of Metro Manila, a more expansive and flexible operation than Grab and Uber.
With the public given a wider choice, better service is expected from the present players who would inevitably be given a run for their money.
Peugeot launches new SUV lineup
It's finally here!
Last year I had the opportunity to test drive in France and other parts of Europe what was later on declared as the 2017 European Car of the Year-the All-New Peugeot 3008 SUV. Together with a select group of motoring journalists we all agreed that the long, cross- Europe test drive brought out the best of the model and were unanimous in saying that it should be brought to Philippine shores. And it turned out to be a long wait.
But as they say, "When it rains, it pours," as Peugeot Philippines recently presented exclusively to the motoring media their latest offerings to the market- Peugeot's new range of SUVs that included not only the All-New 3008 but the new2008 Compact SUV and the All-New 5008 7-seater SUV.
"We are very excited to be unveiling these three new vehicles to the Philippine automotive media for the first time," Peugeot Philippines president Glen Dasig remarked during the event held in their C5 showroom. "Peugeot's new SUV range represents the brand's bold move into the future," the dapper top executive added. Stressing a point the young but dynamic auto industry ceo further explained, "Taking inspiration from both urban landscapes and rough terrain, the new Peugeot SUV range possess a confidant stance with the driver at the heart of its design. Everything about the design of our new SUV range enhances the driver's experience" .
The media launch of the trio of premium Peugeot SUVs coincided with the 'Thanksgiving Dinner' for motoring journalists in appreciation for their continuing service to the motoring public providing all the latest information about the auto industry to include Peugeot.
Honda's 2018 Odyssey takes the spotlight
Is this now the trend?
Honda Cars Philippines (HCPI) held a Thanksgiving Party cum Launch last week at the BGC. Sharing the limelight with the flowing food and drinks was the New Odyssey for 2018.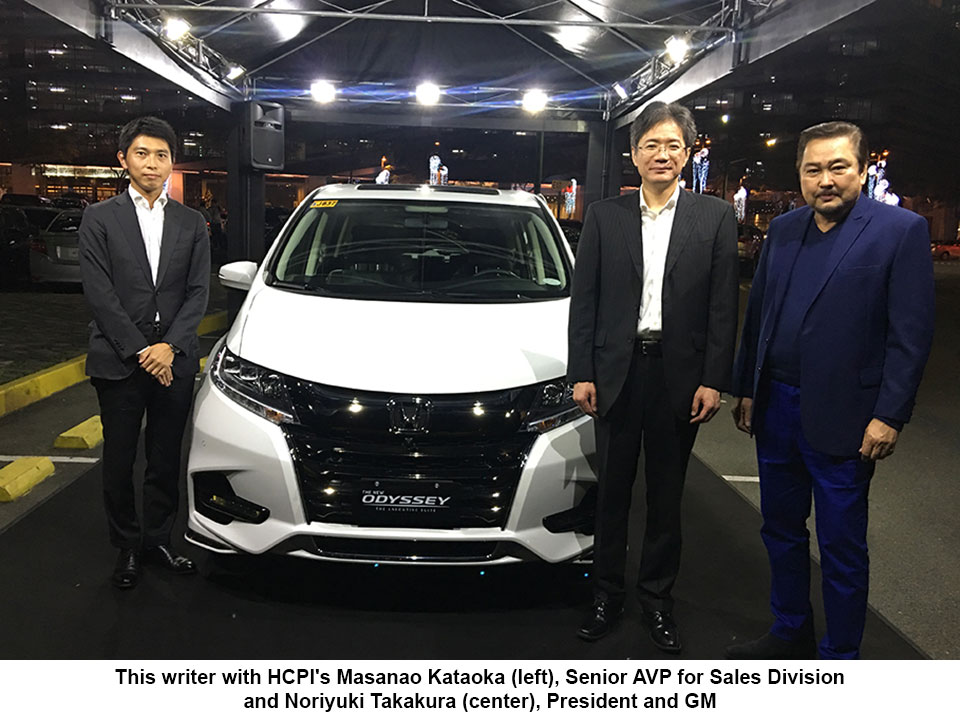 There's a lot to say about the new Odyssey, which you can better appreciate when you see it up close and personal. But allow me to zero in on some of the convenience features, which HCPI president, Noriyuki Takakura described in our on TV interview, " The New Odyssey has always been known for being loaded with convenience features. Both the EX-V Navi and EX variants now come in standard with a Smart Entry with Push Start System, which was previously available exclusively for the EX-V Navi. Also, a 7" Touch Screen Display Audio System with Bluetooth for hands-free telephone (HFT) functionality and audio streaming come in standard for both variants with the EX-V Navi having the additional Navigation, 9" Rear Entertainment System with DVD and HDMI playback capability as added features."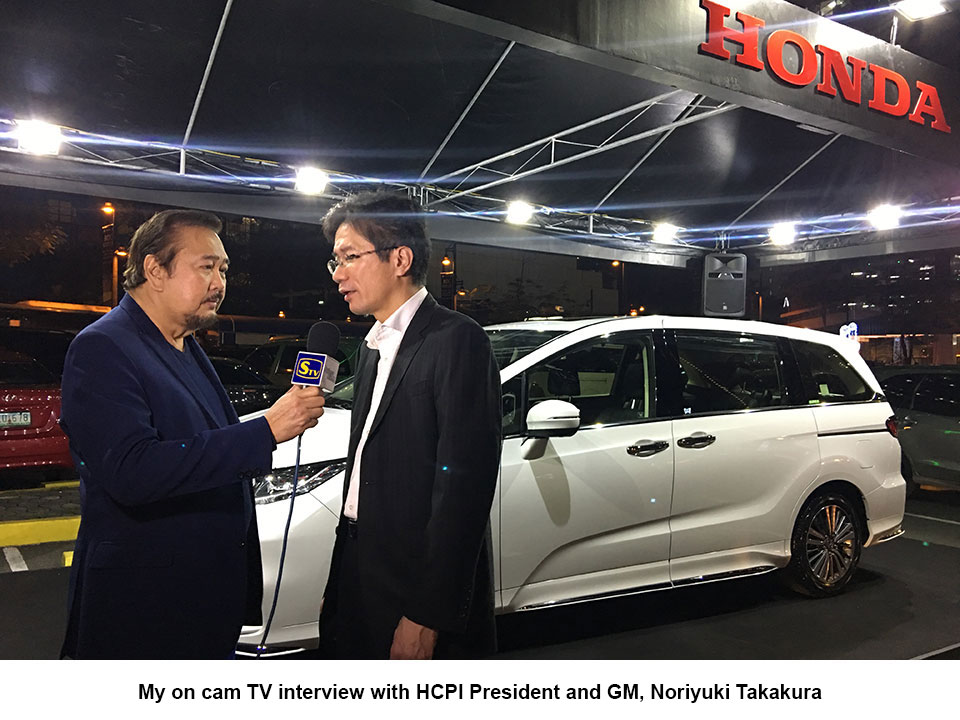 The New Odyssey is now available at all Honda Car Philippines dealerships starting at a suggested retail price of Php 2,449,000 for the top of the lineEX-V Navi variant and Php 2,039,000 for the EX variant .
Happy Motoring!!!
For comments & inquiries (email) sunshine.television@yahoo.com