Filipinos generally love underdogs. Having been colonized for centuries feeling like an underdog is probably in our DNA such that we can easily relate to those being treated as one. And that was how we at STV (Sunshine TV) felt last week, an underdog—aDavid ran over by a Goliath.
A significant part of my formative years as a broadcaster was fruitfully spent with the late Bob Stewarts's RBS (Republic Broadcasting System) now known as GMA Network. Aside from a TV channel, RBS then had three radio stations with varied formats. It had Channel 7, with top-rating TV shows like Combat and Dance Time with Chito to name a few, where as a stand-by announcer I would read live commercials and station breaks. At their Tagalog station, DZBB I would dish out live station breaks and disclaimers for political commentators in the likes ofErnie Rondon, Roger Arrienda and Ruben Ilagan. It was also there where I trained hardest as a disc jockey for DZXX for non-stop, sign-on to sign-off MOR ( Middle of the Road) music interspersed only with time checks and music intros, and DZFF for the latest in pop music, making it one of the best places to develop and hone announcing and broadcasting skills for me. And the RBS culture, which has been carried on to what is now GMA was one of the most laudable for me for affording young talents the chance to blossom and bloom to be the best that they could be.u
This is the reason why I uncharacteristically stopped on my tracks when to my horrifying surprise I found out that the GMA News Network, with no questions asked, no notification nor due process undertaken caused the streaming of last week's episode ofAuto Focus in our website to be blocked by You Tube—affecting all car enthusiasts and loyal followers of our weekly streaming, not to mention our sponsors. There must be another reason for this-not my initial thinking that "an underdog has been trampled upon by a Goliath" .
Upon immediate consultation with our IT partners I was informed that the entire episode was blocked due to the video that appeared on a specific part of its running time. The "culprit" turned out to be a TVC (TV commercial).
Prior to airing, I get assurance from my sponsors that their TVCs can be aired on TV and online, and that means internationally as well. And this particular TVC is no exception; as a matter of fact it is presently airing on Facebook aside from my sponsor's You Tube channel. So, what gives?
As I write this, (Sunday, September 24) the last I heard from my sponsor's agency was that they were in talks with GMA lawyers. The agency is insisting that the TVC in question is the property of their client (my sponsor) and they have all that are necessary to have it aired legally and freely on local media or online.
I have had many friends who worked for GMA who have proudly distinguished its management style and way of conducting business as one of the most admirable and commendable in the industry. I still believe so.
I would like to believe that this is just a case of, "Oops, wrong send, or wrong pindot". But, then what?
iACT appeals for business and private sector involvement
The Inter-Agency Council for Traffic ( iACT), which is composed of several government agencies that have a common involvement or stake in improving the deplorable traffic situation that the metro finds itself in day after day has ambitious plans on the drawing board in order to achieve its mandated task.
I'm privy to these plans after having been invited by CAMPI president, Atty. Rommel Gutierrez to its presentation, which coincided with our discussion regarding CAMPI's continuing support forSunshine TV's road safety advocacy project, the Young Street Smarts Road Safety School Tour, a series of road safety seminars conducted free for high school students to make them future safe and responsible road users.
One of the major presenters of the grand plan,Gen. Manny Gonzales, iACT's chief traffic officer who's working under the Council's head and concurrent MMDA general manager, Tim Orbos, came up with a litany of logistic requirements (additional personnel, equipment, traffic engineering, etc.), which the government sees as a Herculean task to acquire altogether, which would require business and private sector support to see its fruition.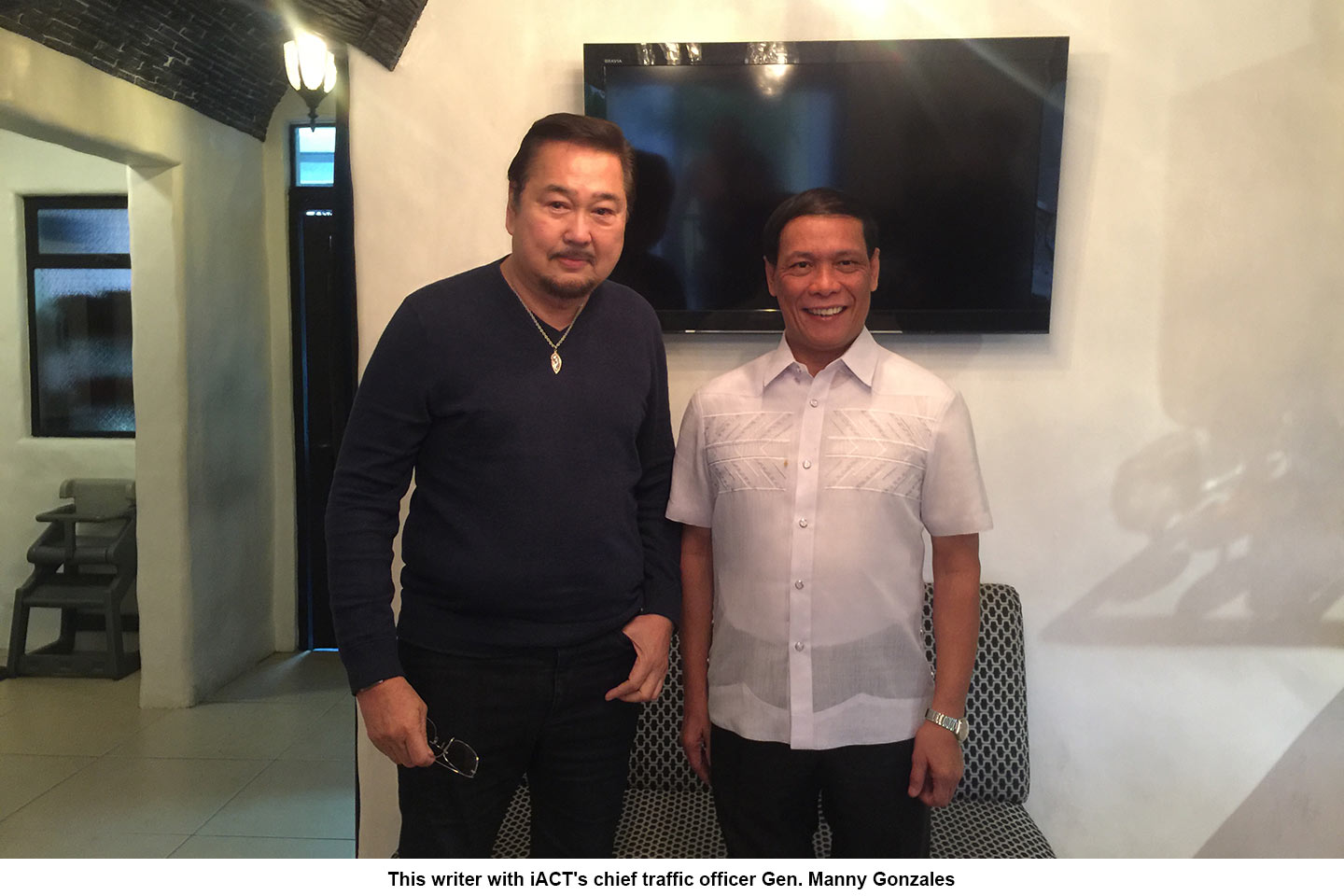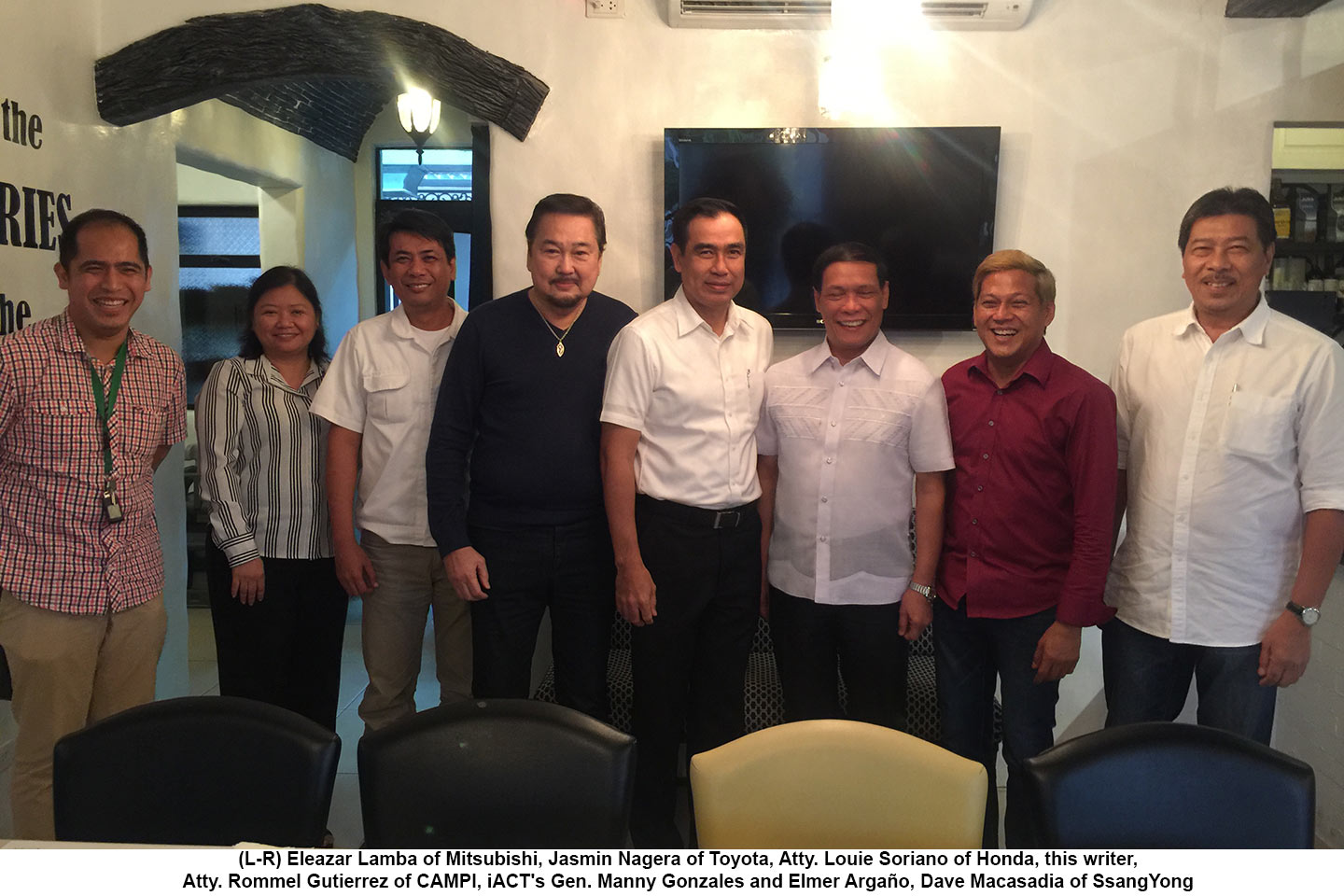 i-ACT plans to achieve their lofty goals of improved traffic management in the metro by working on the required 4 Es, namely;Engineering, Education, Environment, Engineering and Economics. Aside from improving traffic flow in our main thoroughfares, the Council shall also work on eradicating illegal parking, illegal or out-of-line vehicles, illegal terminals, fixers, fake driver's licenses and vehicle registration plates. Simultaneous to all these would be a multi-media information campaign to promote complete awareness to what measures i-ACT is implementing.
All these goals and aims of iACT would face tougher challenges without the support of business and the private sector.
Sunshine TV , through Motoring Today (column, TV show and website) has committed its full support in creating awareness in what I-Act is doing to improve traffic management in the metro and in the whole country.
In your office, at home or on your phone
That's how convenient it is now to find out the latest transportation and traffic management news, vehicle maintenance and road safety tips, international motorsports events, together with all the other varied facets of motoring just by clicking on www.motoringtoday.ph .
While for reviews of the latest automobile models as well as head-to-head comparisons of their features, car launches and test drive events, and anything and everything about the automobile and its industry there's www.autofocus.com.ph .
Both websites are the online versions of the TV magazine shows Motoring Today and Auto Focus and they offer the best of both worlds to viewers—a choice of selective viewing of portions or watching the entire episode on its 'TV streaming page' to include past episodes as well any time of the day.
Happy Motoring!!!
For comments & inquiries (email) sunshine.television@yahoo.com