Honda Launches the All-New CR-V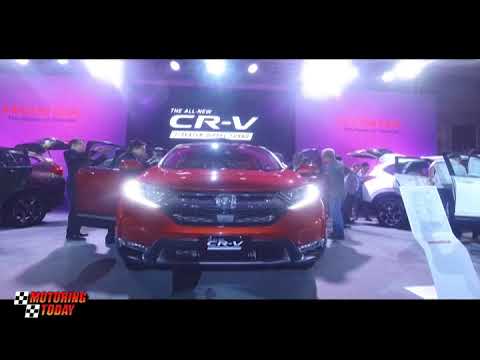 Honda Cars Philippines, Inc. unveiled its first 7-seater Diesel SUV, the All-New CR-V, in a launching ceremony held at Makati Shangri-La.

Honda presented the fifth generation All-New CR-V as designed with a new and efficient diesel engine complemented by a bold and sophisticated exterior styling that matches its premium and comfortable interior.

NORIYUKI TAKAKURA
PRESIDENT AND GENERAL MANAGER
HONDA CARS PHILIPPINES, INC.

"We lauched the 5th generation CR-V. The CR-V is also a very popular SUV in the Philippines and today, we launched the very special features for the new CR-V. There are three points. First one, finally we have diesel engine for the CR-V and also, this CR-V is 7-seater. As such, this is very very good for Philippine families and also, this is a very comfortable and convenient car. We are very confident that we can satisfy Philippine customers."

According to Honda, to serve and function as an all-around comfortable SUV, the 7-seater variants of the All-New CR-V are powered by a fuel efficient 1.6-liter DOHC i-DTEC Diesel TURBO engine developed under Earth Dreams Technology that produces a maximum power of 120PS at 4,000rpm and peak torque of 300Nm at 2,000rpm.

The highlights of its exterior design include the sharp-lined front grille reflects an aggressive, yet sportier look that is further complemented by signature Honda Full LED headlights, revolving around its exterior concept of "Modern Functional Dynamic".

SHERWIN KUAN
PRODUCT PLANNING HEAD
HONDA CARS PHILIPPINES, INC.

"For the exterior of the all new CR-V, it comes with a more dynamic exterior design so it's a sportier and more aggressive exterior design compared to the previous generation. We've added a lot of new features. The headlights are now full LED, we have LED fog lights the wheels and lights are now larger compared to before so it now carries 18-inch alloy wheels. So overall the dimensions are larger than before giving us better interior space. For the interior for this new CR-V, we've given it a more premium, more spacious interior so we've developed this CR-V to have 3 rows right from the beginning so we're able to accommodate the 3 rows of seating and 7 seating capacity. Aside from that, the interior also has more premium materials so the dashboard is totally new, we've added new features. There's a new 7-ich touch screen audio display, there's a new TFT Meter which is a standard for all the variants and the diesel versions come with a push button electronic gear selector. So it's a very advanced and technological interior."

NORIYUKI TAKAKURA
PRESIDENT AND GENERAL MANAGER
HONDA CARS PHILIPPINES, INC.

"We are very very confident about our new model so please come and see our new CR-V in our dealerships. Thank you very much."