Gadget Mounted on the Rearview Mirror of a UV Express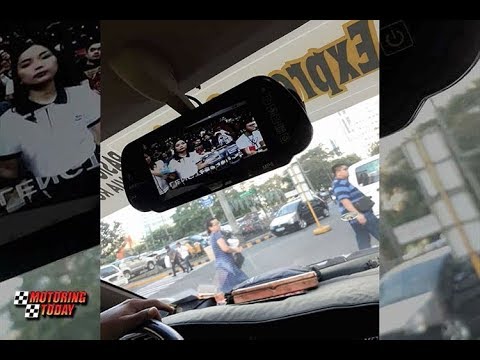 We are here once again on our Public Service segment on Motoring Today. For this week, we will talk about how some public utility vehicle drivers are not following the rules and regulations of the recently-implemented Republic Act 10913, also known as the Anti-Distracted Driving Law or ADDA.

As part of the Implementing Rules and Regulations of the ADDA, using an electronic device to play games, watch movies, browse the internet, etc., while the vehicle is moving is considered distracted driving. However, as long as the gadgets are placed or mounted within the "safe zone", then it is allowed, according to the Department of Transportation.

A concerned citizen sent this photo to us, showing a gadget mounted on the rearview mirror of the UV Express while the vehicle is moving. According to the complainant, they pointed out to the driver that placing a gadget in the rearview mirror, which is outside the "safe zone", is prohibited under the ADDA. The complainant added that the driver only responded with, "Pwede 'yan. Sa una lang bawal 'yon," and proceeded to watch the show despite being called out.

As we know, this is exactly why the ADDA was implemented: to prevent the drivers from having distractions while driving and to lessen the number of reported road accidents. But months after the said law was implemented, it looks like that some drivers have forgotten the importance of it.

With this, we will get insights from the proper authorities about their enforcement of the Anti-Distracted Driving Law and what actions they take regarding the motorists who violate the law.